The value of rhinos is life, but if we don't do something they could become extinct in 20 years.  Please help save #JustOneRhino because rhinos have value and we should value them.
Rhinos are part of the circle of life on the savannas of Africa but should not be part of the circle of corruption brought on through poaching.  Rhinoceroses have value like any life, ecological and economic.  And by that I don't mean the ridiculous selling of their horns.  Only rhinos need rhino horns.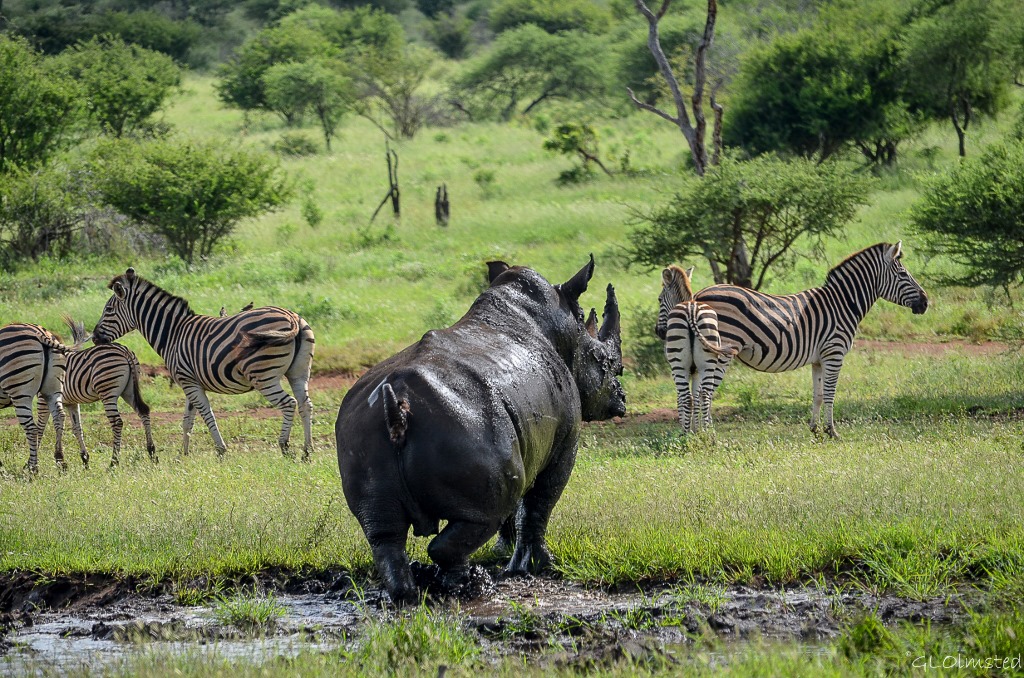 Having been to South Africa several times on safari I've been fortunate enough to see both white and black rhinos.  They are HUGE, shy, relatively docile, and often very entertaining.  Imagine going on safari and being told you will not see the Big 5—elephant, lion, leopard, buffalo, rhino.  Of course there's never a guarantee to see wildlife, but they could be extinct.  I mean, why would you bother to go at all if there wasn't at least a chance.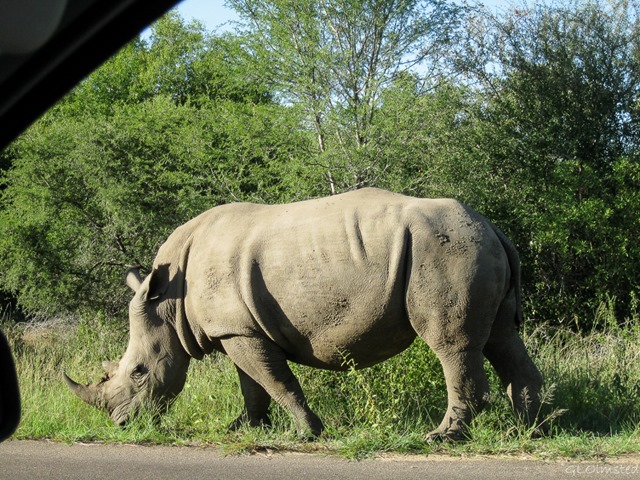 Right outside the window in Kruger National Park
The cold hard facts
It's happened before.  Rhinos were driven out of South Africa's Kruger National Park by 1896 due to hunting and were reintroduced beginning in the 1960s. The reintroduction was a massive success and by 2010 there were some 10,000 individuals within the park.  At the turn of the 19th century, there were approximately one million rhinos.  However, by 1970 there were around 70,000 and unfortunately the current population is only 29,000.
It's happening again.  According to World Wildlife Fund, a record 1,215 rhinos were poached in South Africa in 2014.  That's a 21% increase from the previous year.  And, if you look back just seven years, it's a 9,300% increase in rhino poaching.  Today, 7-9 rhinos are being poached every hour!

Ecological value
Rhinos have been around for 40 million years doing their rhino thing, eat, poop, move on and give birth.  Gestation is slow lasting about 16 months with only 1 calf born about every 2-4 years, which is how long the calf stays with its mother.  White rhinos are grazers (eating grass) and black rhinos are browsers (eating leaves, buds, bushes and trees) making them more difficult to see.  Their names have nothing to do with their color.
New research indicates the removal of large herbivores like rhinos results in the loss of grass habitats and associated species.  Think of Rhinos as lawnmowers, rototillers and fertilizers.  Although not herd animals like elephants, the solitary rhino moves across the land helping the soil and diversity of plant life.

Economic value
The economic value of rhinos should be about sustainable tourism.  1.4 million people a year visit Kruger National Park the largest of many wildlife parks in South Africa.  Tourist dollars help support the local economy continuously through employment and associated services.
Poaching, on the other hand, brings big money only to the rich.  The street value for rhino horn, if it's to be believed, is $65,000 a kilo [2.2 pounds].  Unfortunately it's the poor African man that may pay with his life.
SANParks (South Africa National Parks) arrested 174 poachers in 2014, but the parks are huge and the Rangers are few.  I won't share the ugly photos with you of a rhino left to die after its horn has been brutally hacked off, a youngster dying at it's side.  It sickens me.
Why do people want Rhino horn which is the same material as your fingernails?  In some Asian countries rhino horn is believed to have medicinal properties.  It's not really about the science behind that, which doesn't support the belief.  It's cultural.  And it may require generations of education to stop poaching, but then it could be too late.  We've reached a tipping point in South Africa where rhinos are being poached faster than they can breed.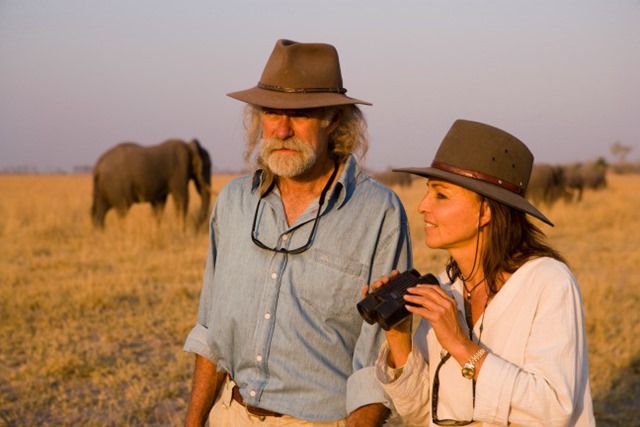 Photo courtesy of Dereck & Beverly Joubert
What can be done
Relocations have been successful in the past with only a 2-5% mortality rate.  "Botswana wants rhinos.  And Botswana has the lowest poaching rate in all of Africa." says Dereck Joubert who along with his wife Beverly are National Geographic Explorers In Residence, acclaimed wildlife photographers/filmmakers, and conservation advocates famous for their work in saving Africa's Big Cats.
Travelers Building Change, a non-profit eco-minded charity project, and Green Travel Media have partnered to raise money for Rhinos Without Borders, a project being spearheaded by Great Plains Foundation founded by the Jouberts.  RWB intends to move 100 rhinos from South Africa to Botswana which costs $45,000 to move, you guessed it, #JustOneRhino.  This will not only spread rhinos further afield but increase the herd and gene pool in a country with an aggressive poaching policy that includes "shoot to kill" when it comes to poachers.

How you can help
You can help along with over 120 travel bloggers who are increasing awareness about the plight of rhinos and with your donation enter to win one of $30,000 worth of prizes donated to the cause to save #JustOneRhino.  No donation is too small.  Just a $20 donation will get you 10 tickets for a choice of your top 3 prize picks or donate more for more chances to win and help rhinos.  The campaign ends March 1, with prizes announced on March 3, World Wildlife Day.  100% of the proceeds raised will be used to fund the rhino relocation process.
Here's what you could win
*  Adventure Life South Africa Big Five Safari, a 9-day trip valued at $5000.
*  International Expeditions 10-day Galapagos Voyage for one valued at $5,298.
*  Cobblers Cove Hotel, Barbados Seven nights bed and breakfast in a Garden View suite value at $5,187.
*  Yemaya Island Hideaway & Spa, Nicaragua 10 nights' stay & wellness package for two people at Yemaya Island Hideaway and Spa on Little Corn Island, Nicaragua value at $5,241.
*  Secret Retreats offering vouchers for two people at Bali Jiwa Villain in Bali, Indonesia valued at $1,000; The Scent Hotel in Koh Samui, Thailand valueed at $3000; 4 Rivers Floating Lodge, Koh Kong, Cambodia valued at $900; or Flower Island, Palawan, Philippines valued at $900.
OTHER PRIZES
* eBag Luggage
* WeWOOD Watches
* Dinner/Brunch Cruises
* 2 nights in an Italian Villa
* 2 Tours in India
* ExOfficio Gift Certificate
* 2 nights Renaissance Asheville
* Travel Blog Success Lifetime Membership
* African Elephant Photo Pack
* HDR Timelapse Video Camera w/Lens
* Blogger Mentorship Package from Green Global Travel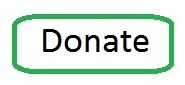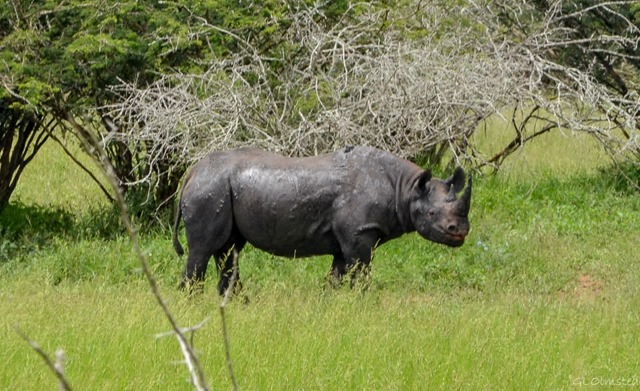 Black Rhino at Kruger National Park

The value of life
It's really all about the value of life.  Even if I never get to go to South Africa again (although I did donate and chose safari as one of my three options to win) I want to know rhinos survive for their own value and ours.  The loss is heartbreaking.  I value all life on the planet as I'm sure you do too.  Please spread the word and share this opportunity to save #JustOneRhino.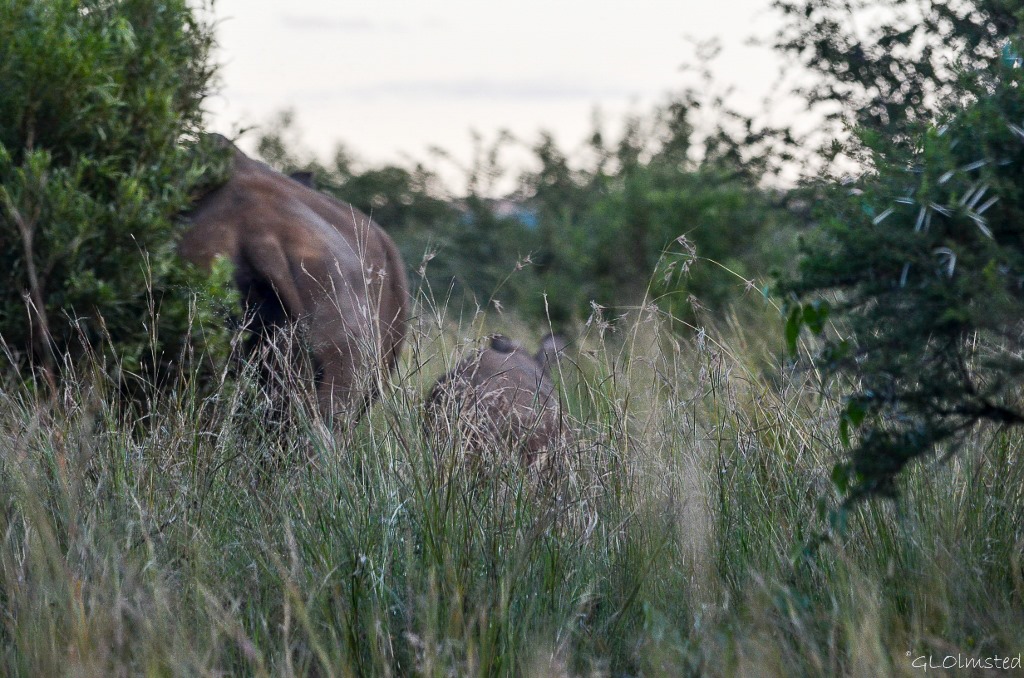 RHINOS WITHOUT BORDERS A PROJECT OF HOPE FOR THE RHINOS OF SOUTHERN AFRICA.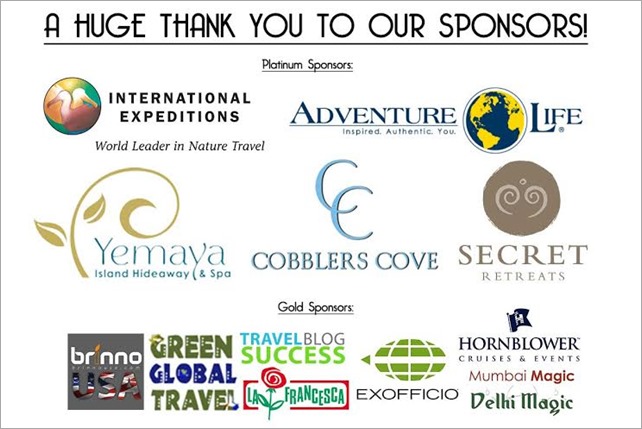 If you shop at Amazon please consider clicking below for the Amazon website. As an Amazon Associate I'll make a few cents on your purchase(s) at no extra cost to you. Put a few pennies in the winter travel kitty. Thanks for helping out.

Geogypsy is a participant in the Amazon Services LLC Associates Program, an affiliate advertising program designed to provide a means for sites to earn advertising fees by advertising and linking to amazon.com