This week's Foto Friday Fun features 8 images chosen by readers from my photo archives.  Our meme number for this week is 2799.  Please link in any day this week by digging into your archives and sharing a photo and story on your blog.  Plus check out the other posts linked to the Foto Friday Fun meme.  And, you can leave a number for next week.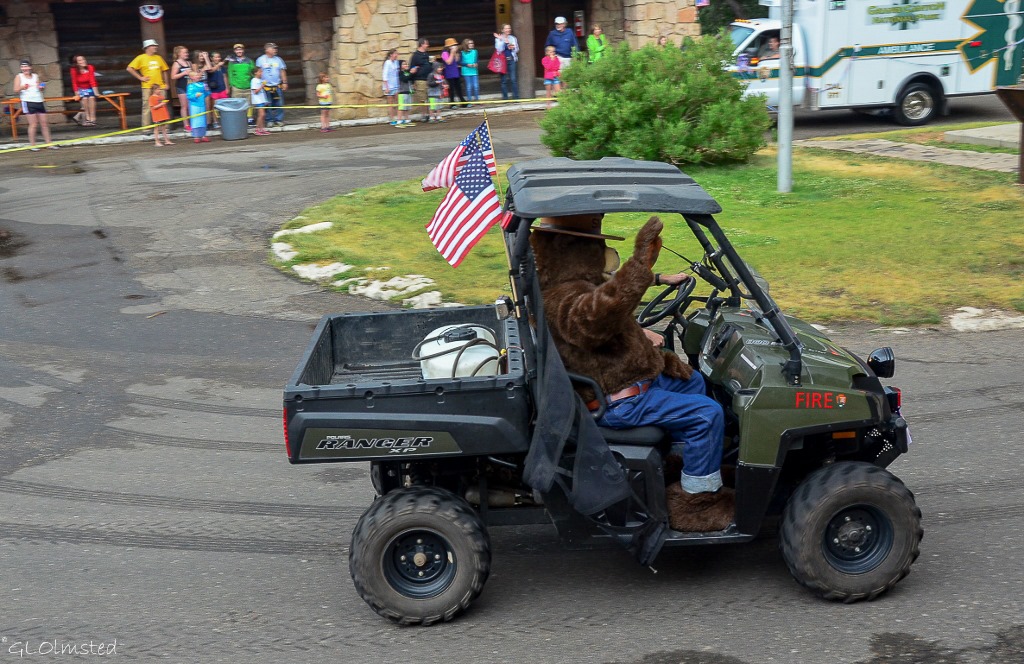 Shane chose #2799 and gets a big wave from Smokey Bear who made it to the North Rim's annual 4th of July water parade.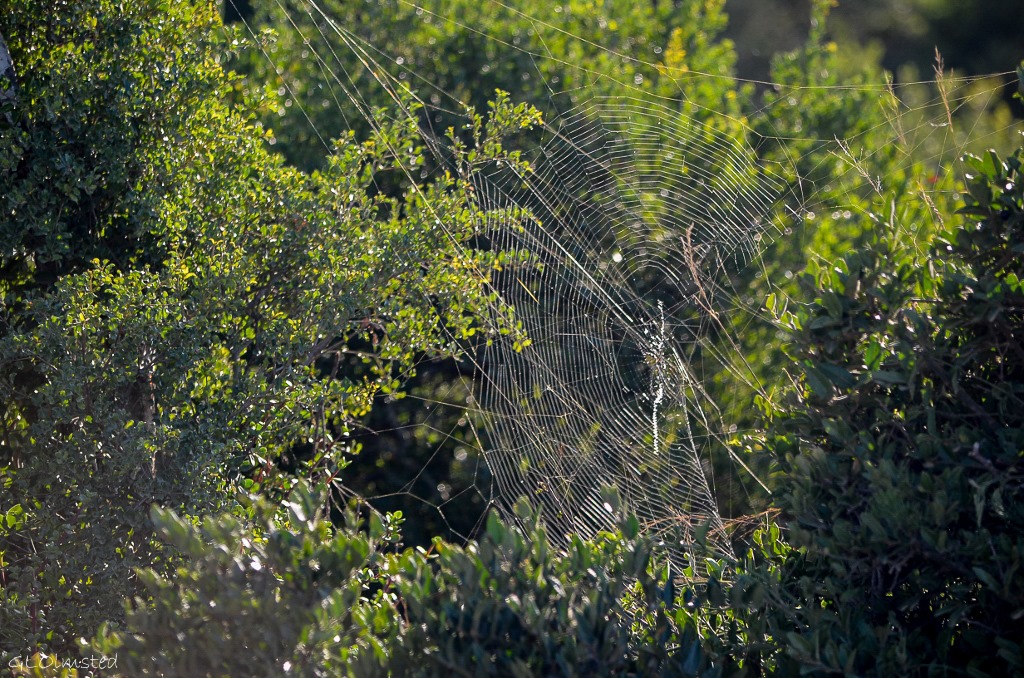 Diane chose #3007 in keeping with her "007" theme.  I'm no James Bond but was spying on this Garden Globe spider's web seen in Addo Elephant National Park, South Africa during February 2013.  I don't like spiders in my house but am fascinated by their webs.  Notice the extra heavy cross pattern that is iconic of globe spiders.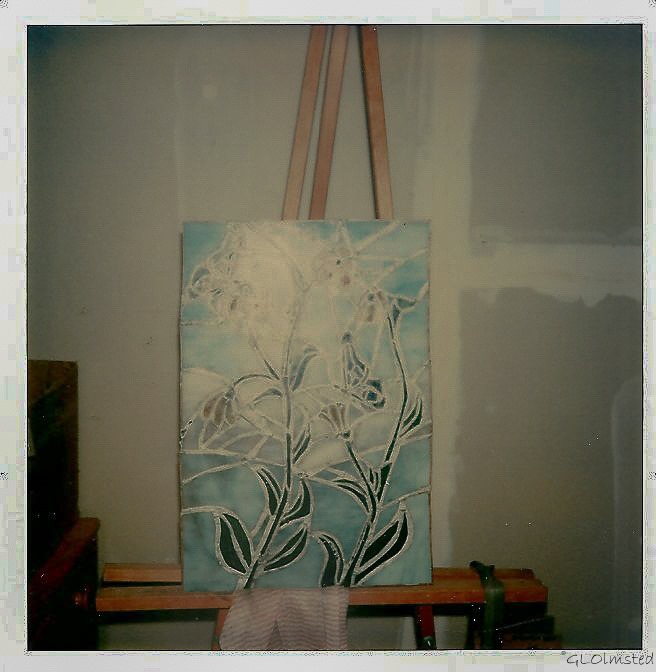 Sallie chose #1 and gets the first stained glass project I ever designed and made back in 1980.  Unfortunately the scanned polaroid photo is no better than the piece.  Huge gaps up to 1/4 inch between the glass pieces, and some of those not any larger than a lima bean.  The finished piece of about 12×18 inches must have weighed about 10 pounds of just solder.  (In case you can't tell it's butterflies on flowers.)  Good learning experience and I practiced this craft for over 10 years.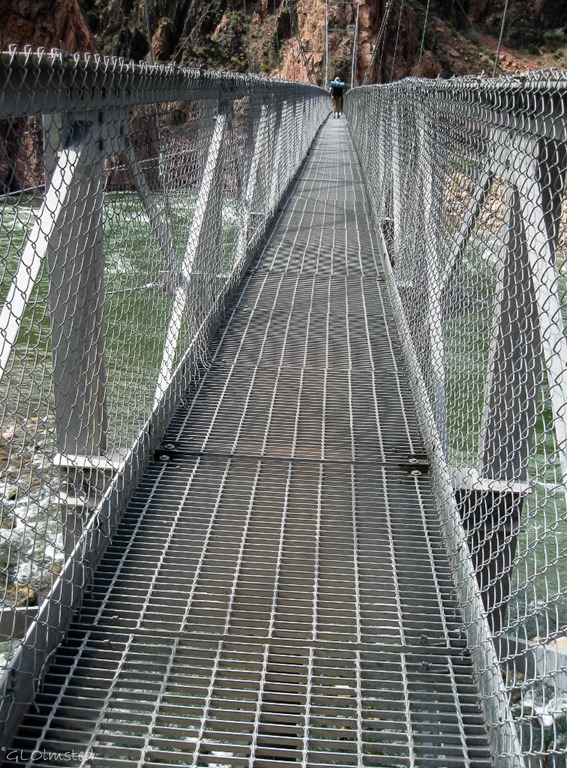 Elaine chose #201 and gets to cross the silver suspension bridge across the Colorado River.  There are actually two footbridges to cross the river when hiking rim to rim.  This crossing with Ranger staff in May of 2009 took us up the Bright Angel trail to the South Rim, from the North Rim.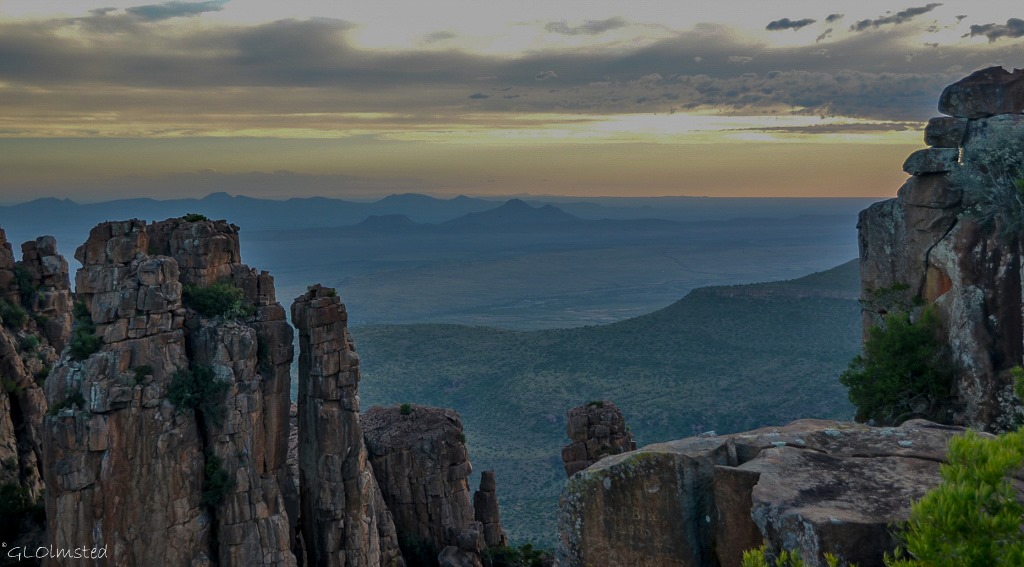 Bibi chose #2248, "since that's my birthday."  HAPPY BIRTHDAY a few days late.  Your belated gift is a sunset at Camdeboo National Park South Africa with a view of the Valley of Desolation beyond the dolomite cliffs.  I'd love to share this place with you IRL.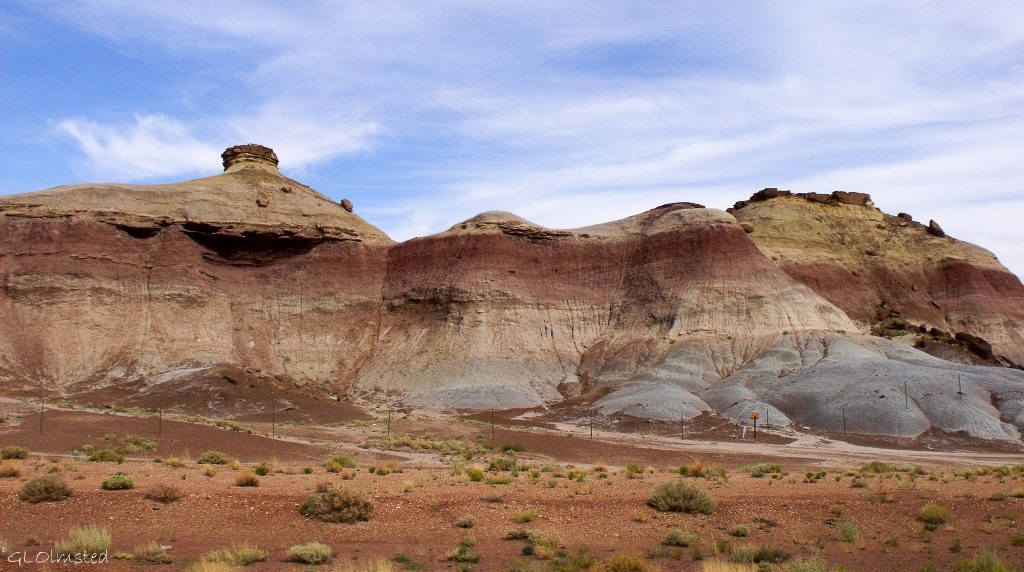 Yogi chose #1313, "Just to play with your 1212 this week."  Because he once lived in the Southwest and I know he considers 13 a lucky number I'd say he is lucky this week choosing the marvelous pallet seen in the Painted Desert along State Route 89.  This shot was taken in August 2010 during one of my drives between the North Rim and Flagstaff where I often shop.

Jonker chose #1652, "The year Europeans came to South Africa [where he's from] and set up the first permanent settlement in the Cape."  Well I don't know about first settlement but this house is the only one on this hillside overlooking the almost nonexistent town of Hillside, Arizona.  My kind of place.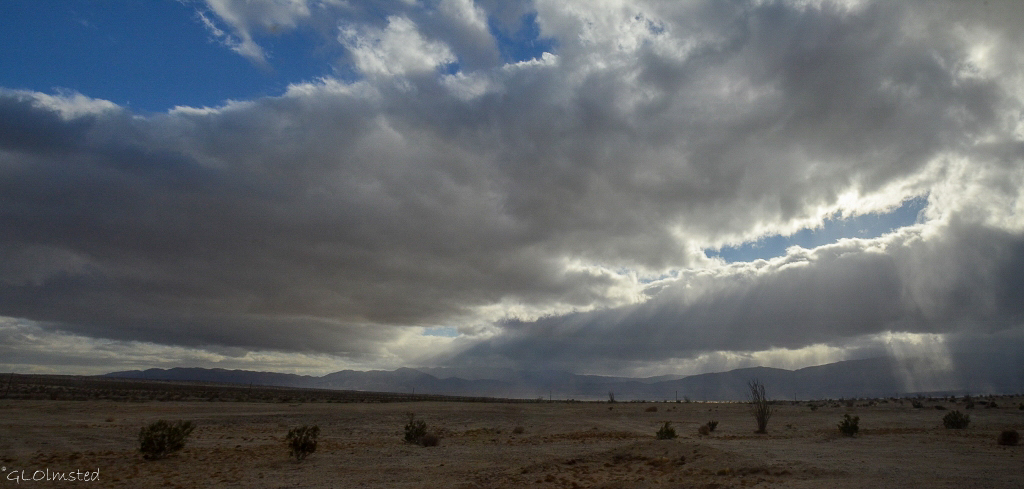 Melissa chose #2428, "Kinda my Mum's Birthday, Feb. 24, 1928." May your Mum's birthday bring sunrays, and maybe not the storm that followed. Because that night it snowed on the mountains at Anza-Borrego Desert State Park, California.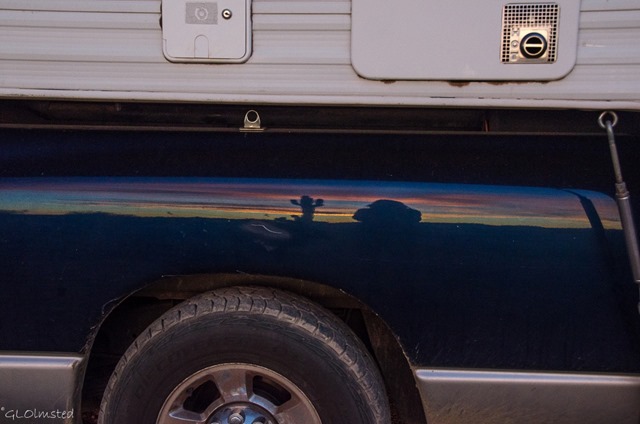 Yet even more my kind of place, and choice for this week, dreaming of a return to the desert.  Soon.
Please join in by:
1) Sharing a #2799 photo index number from your photo archives in a post on your blog with a story that goes with the photo.  Then add the URL from that post to Mr. Linky below along with your name (Gaelyn, AZ), and link back to Foto Friday Fun 97 in your post so others may read and join in.
2) You can also leave a number between 01 and 9999 in a comment for next week's Foto Friday Fun.
3) One or both of the above.
First commenter will chose next week's photo index number.
Do you have a favorite from this week?
If you shop at Amazon please consider clicking below for the Amazon website. As an Amazon Associate I'll make a few cents on your purchase(s) at no extra cost to you. Put a few pennies in the winter travel kitty. Thanks for helping out.

Geogypsy is a participant in the Amazon Services LLC Associates Program, an affiliate advertising program designed to provide a means for sites to earn advertising fees by advertising and linking to amazon.com