This week's Foto Friday Fun features 6 images chosen by readers from my photo archives.  Our meme number for this week is 1414, chosen by the first commenter last week.  Please join in with a post and link below with a #1414 indexed photo from your archives.  And check out the other posts linked to the Foto Friday Fun meme.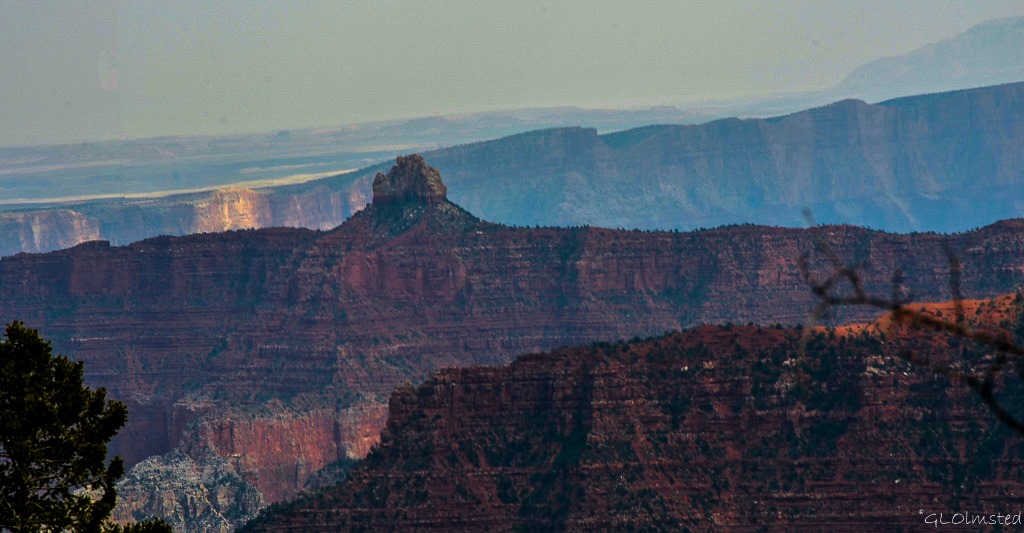 Yogi chose #1414, "just cuz."  When I cruise the overlooks on the North Rim it's only a 2.6 mile drive off the Walhalla scenic road to Point Imperial so I rush to the end.  But this day I decided to stop on a wide gravel spot, 'just cuz' I wanted a different view.  And that's why I got a shot of Brady Peak instead of the usual Mount Hayden.  Thanks for joining in last week and choosing this week's Foto Friday Fun number.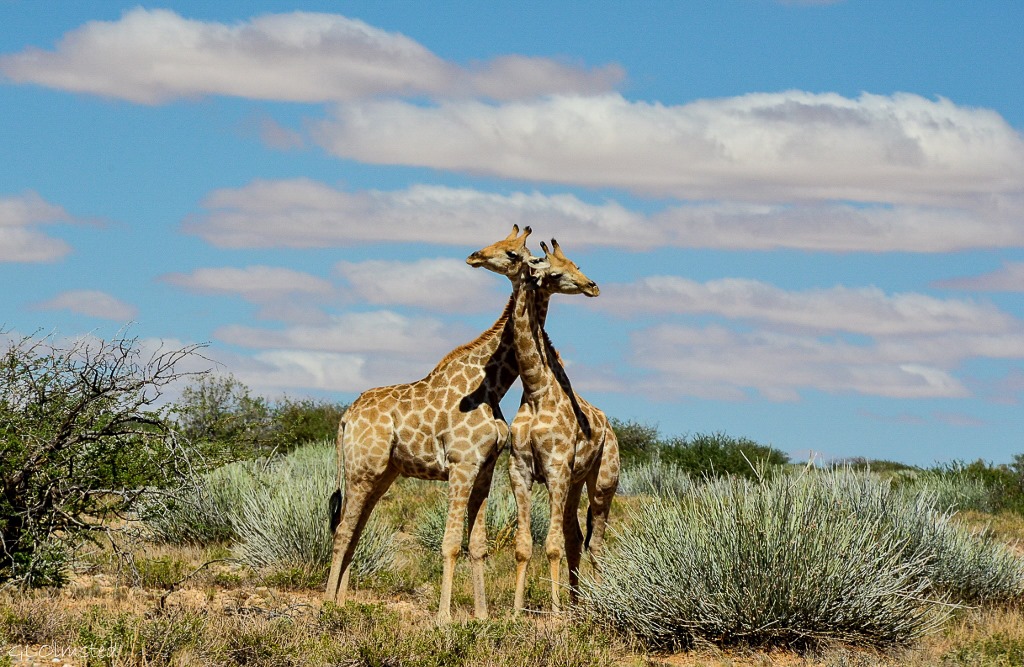 Sherry chose #9555, "for no reason at all."  Sometimes giraffes neck for no reason at all, but usually it's a game of dominance between males, or caressing courtship.  I watched, and videoed, these two males' choreographed necking for quite a while at Augrabies Falls National Park.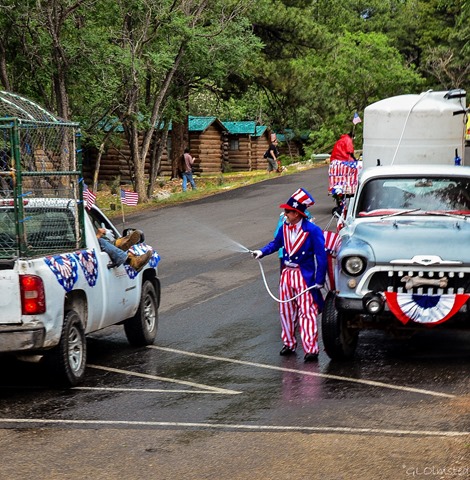 Elaine chose #3113, a special treat to see Uncle Sam at the North Rim's 4th of July water parade this year.  Thanks for linking in the Foto Friday Fun last week.
Bibi chose #4, "the total number of grandchildren come February."  Well the perfect place to take all those kids is Disney World.  I hope to always be a kid and very much enjoyed my third visit there in 2006.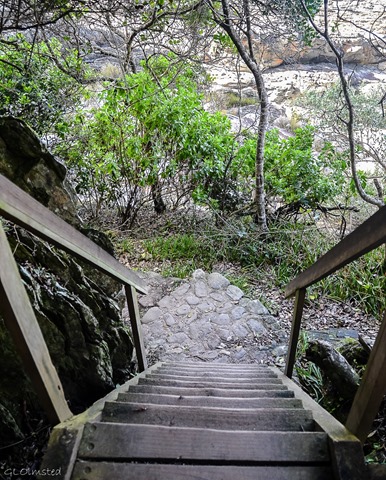 Diane chose #6661 leading us down just one set of many stairs along the Tsitsikamma Waterfall trail in South Africa.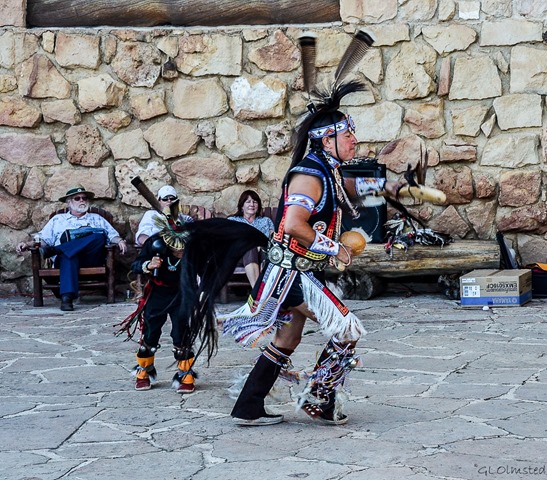 Jonker chose #5429, "Randomly chosen."  Nothing random about the dancing of Derek Suwaima-Davis, chosen as a seven time International Hoop Dance champion.  Derek performed at this year's Native American Heritage Days at the North Rim Grand Canyon National Park and seems to get better every year.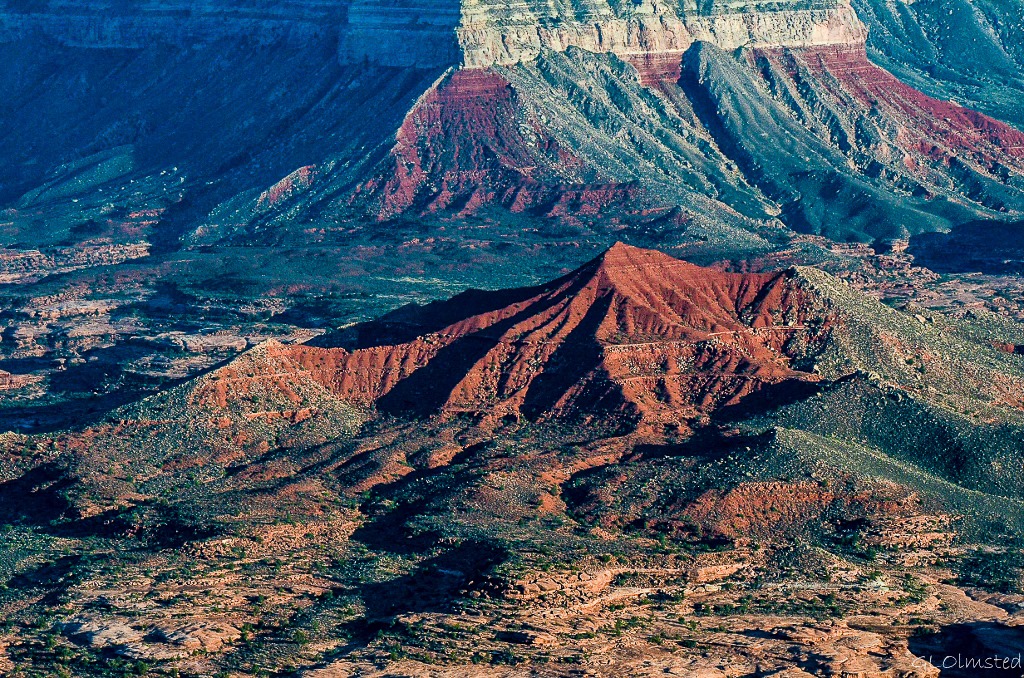 My choice this week, because I'm still labeling photos from July, when I made the long drive to Jumpup Point and was blown away by the view and palpable silence.  According to the map, this red peaked landmark of Hermit shale is called Race Track Knoll.  Being it's located on the Esplanade sandstone at least 650 feet (200 meters) below I was in no hurry to race down there.
I hope you'll join in with your own #1414 photo and story by adding your link below and linking back to Foto Friday Fun 73.  And if not, leave a number between 01 and 9991 in a comment for next week's Foto Friday Fun.  The first person to comment who is joining in the meme please choose a number for next week.
Do you have a favorite from this week?
Capturing the present for future memories of the past
If you shop at Amazon please consider clicking below for the Amazon website. As an Amazon Associate I'll make a few cents on your purchase(s) at no extra cost to you. Put a few pennies in the winter travel kitty. Thanks for helping out.

Geogypsy is a participant in the Amazon Services LLC Associates Program, an affiliate advertising program designed to provide a means for sites to earn advertising fees by advertising and linking to amazon.com