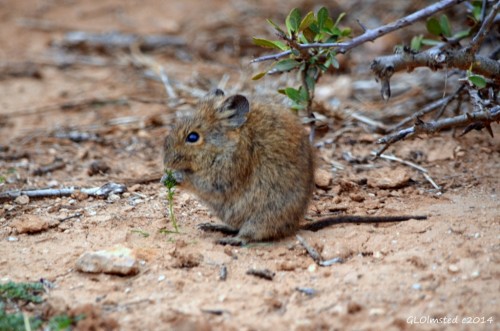 The striped mouse is active mostly during the day at Addo Elephant National Park in South Africa.  The four stripes that give it the name run the length of the back.
OK, so you can't see the stripes in this image.  And why am I taking photos of a mouse.  Because I thought this little chubber quite cute.
Little mouse stepped on an elephants toe.  Elephant said with tears in its eyes, "Why don't you pick on someone your size.  Boom boom, ain't it great to be crazy…."  Old Girl Scout song I was reminded of.
Just a little fun for April Fool's Day.  But I really did see this mouse.
If you shop at Amazon please consider clicking below for the Amazon website. As an Amazon Associate I'll make a few cents on your purchase(s) at no extra cost to you. Put a few pennies in the winter travel kitty. Thanks for helping out.

Geogypsy is a participant in the Amazon Services LLC Associates Program, an affiliate advertising program designed to provide a means for sites to earn advertising fees by advertising and linking to amazon.com