This week's Foto Friday Fun features 8 images chosen by readers out of my photo archives.  Of course these are all from my current journey through South Africa as that's all I have on the replacement computer.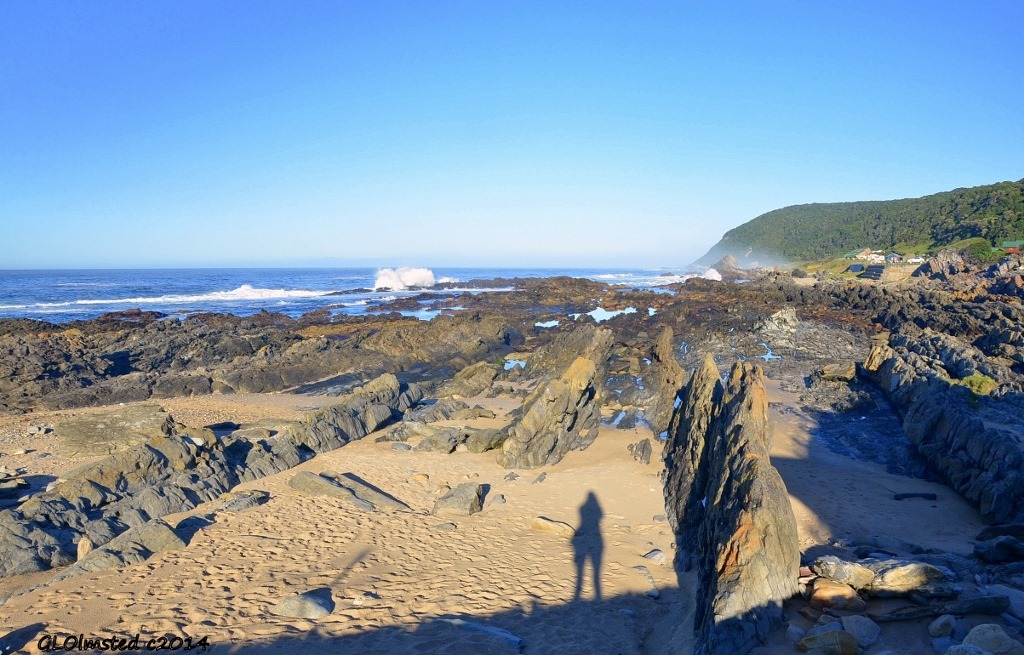 Bibi chose #31, "for Baskin Robbins 31 flavors."  Me, and my shadow, have fallen in love with a flavor I'm not sure Baskin Robbins carries.  Joan introduced me to frozen juice Granadilla on a stick and now I want them every day.  Thank goodness they were available while at Tsitsikamma National Park so I could watch the waves while eating.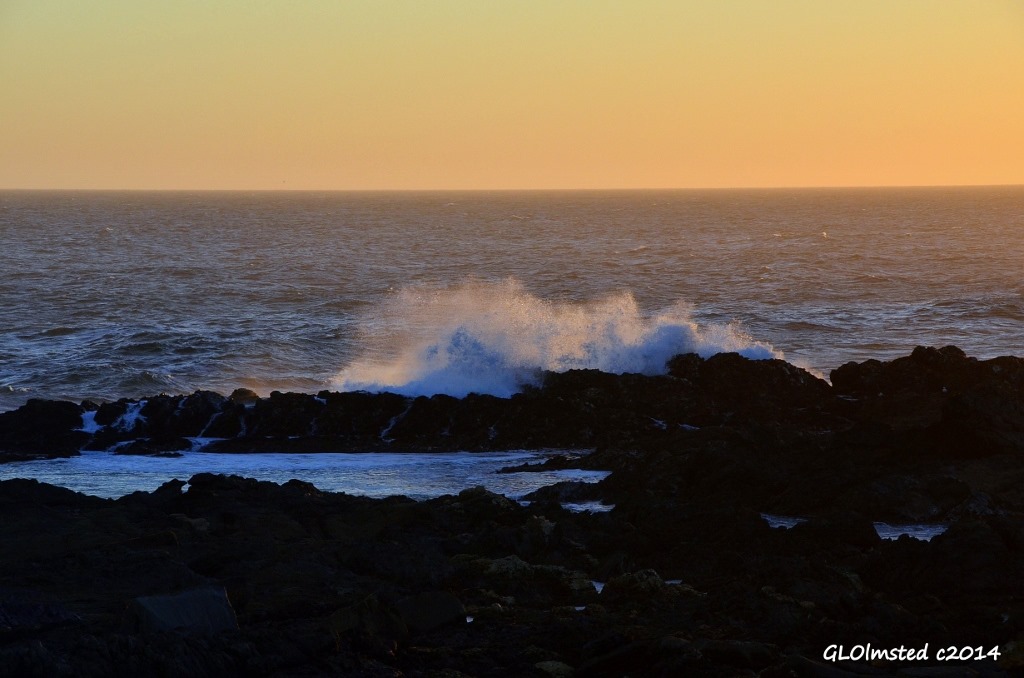 Diane chose #10, "the date of Nigel's birthday."  Last week she saw the sunrise and today she gets a sunset at Tsitsikamma National Park.  I know she dearly wants to return to South Africa for a visit so hope she gets to see this sight in person one day.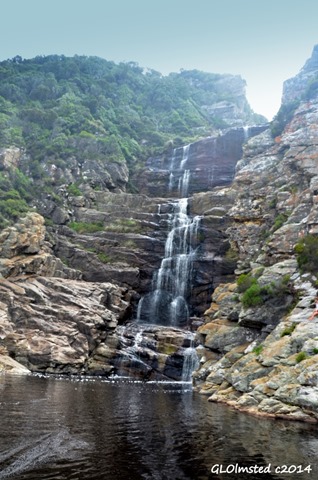 Sallie chose #12, "the number of my descendants (to date)."  I think this waterfall seen hiking at Tsitsikamma National Park has about 12 descents.  But the route to get there had many more ascents and descents over large boulders.
Sherry chose #415.  She's a beach gal and loves to swim so believe she'd really like this lagoon that runs into the Indian Ocean at Tsitsikamma National Park in Nature's Valley.  Of course I didn't see any manatees there.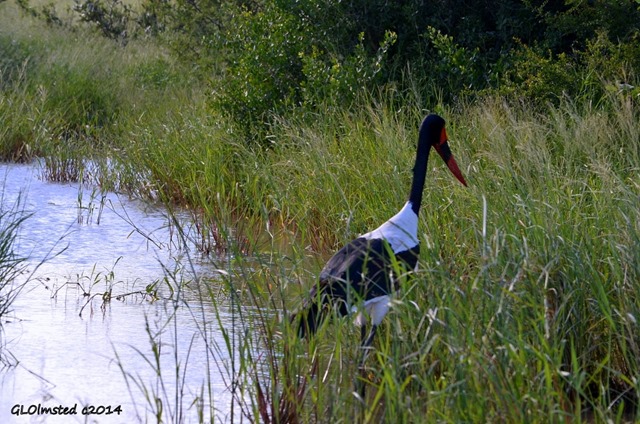 Yogi chose #333, "Cuz it is half the number of the beast."  Although very large, this Saddle-bill Stork is probably half the number of many of the beasts I've seen while in Kruger National Park.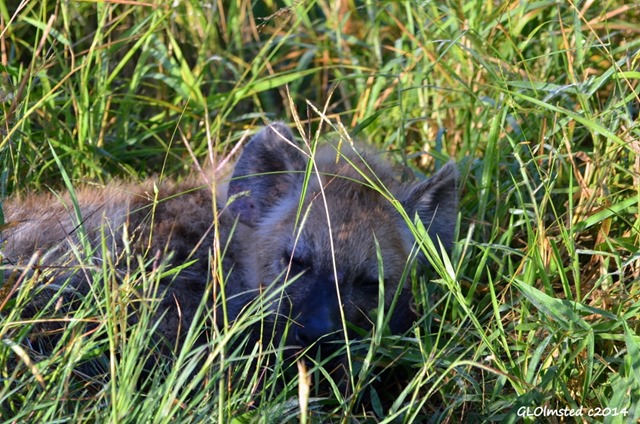 Jo chose #442 as "we've been married for 42 and I added 400 for fun."  Sure glad hyenas are her "favourite carnivores" as she's getting another.  There were two sweet and snoozing cubs along the road early one morning in Kruger National Park.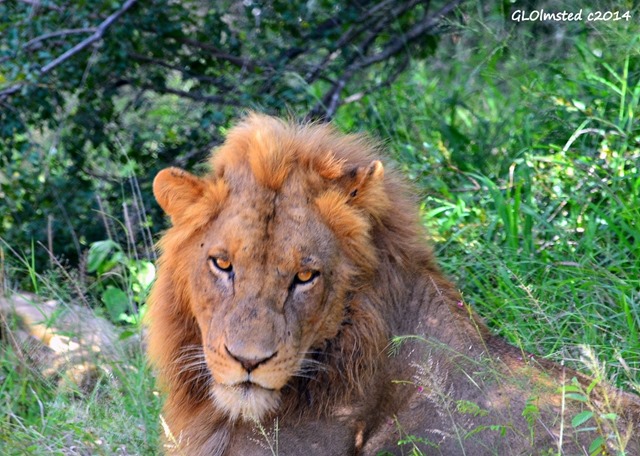 Elaine chose #500.  I'd give this big boy a 500+ after watching him mate three times at Kruger National Park South Africa.
Jonker chose #593, as "just another random number for another random picture."  He worked at and lives nearby Addo Elephant National Park in South Africa where I saw these young elephants at play.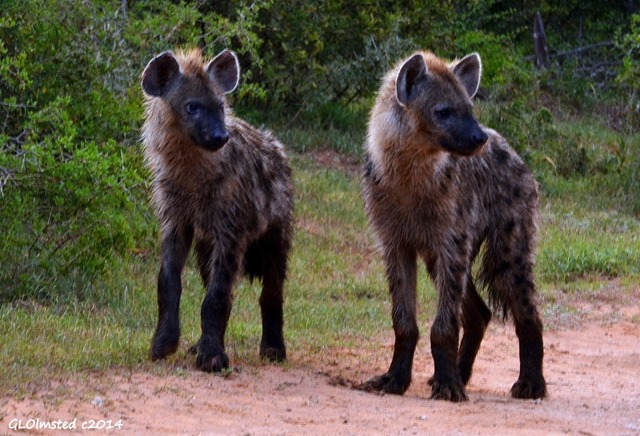 My choice this week, two hyena pups seen at Addo Elephant National Park.  Mom actually sniffed the side mirror while I took a bad quality video.
Thank you for joining in Foto Friday Fun where readers choose a number from my archives and I share the corresponding
photo and a story.  To join in the fun for next week leave a number between 01 and 999 in a comment and maybe see your
chosen image next week.
Do you have a favorite from this week?
Look for other photos posted on Geogypsy Facebook page not usually seen here.
Sorry I haven't been very active reading blogs while on this amazing journey in South Africa.  I barely have time to write posts, and check email and Facebook.  I return to the States April 9th and hope to do more catching up.  Then I return to work at the North Rim of Grand Canyon National Park April 29th but of course we don't open until May 15th.  Hope some of you will come for a visit this summer.
If you shop at Amazon please consider clicking below for the Amazon website. As an Amazon Associate I'll make a few cents on your purchase(s) at no extra cost to you. Put a few pennies in the winter travel kitty. Thanks for helping out.

Geogypsy is a participant in the Amazon Services LLC Associates Program, an affiliate advertising program designed to provide a means for sites to earn advertising fees by advertising and linking to amazon.com