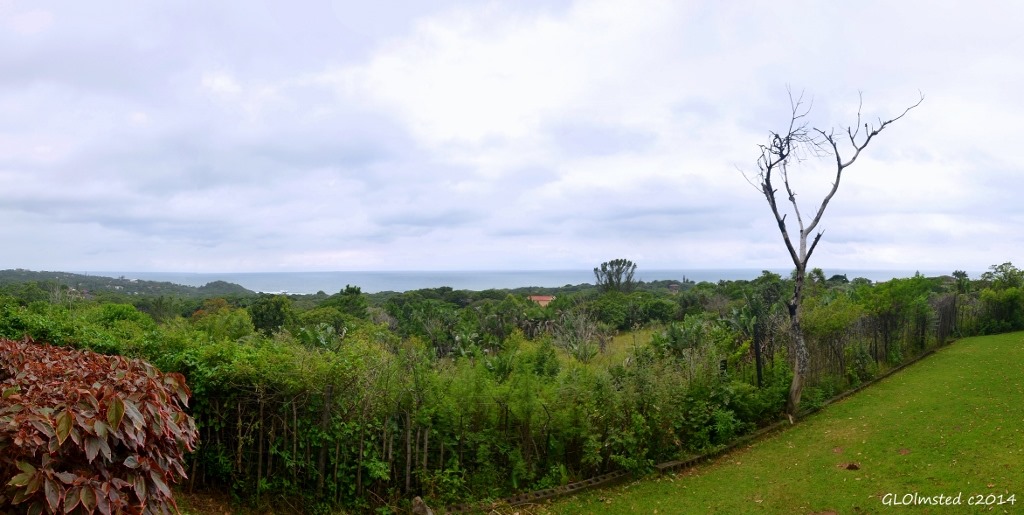 Indian Ocean from camp
While camping at Leisure View near Port Edward Joan and I went to dinner at the highly recommended Mac Banana located between Palm Beach and Munster along the Kwa-Zulu Natal coast.  There were so many choices on the menu of sweet or savory pancakes—which in the States are called crepes—we wanted one of everything.  They really should have a combo plate.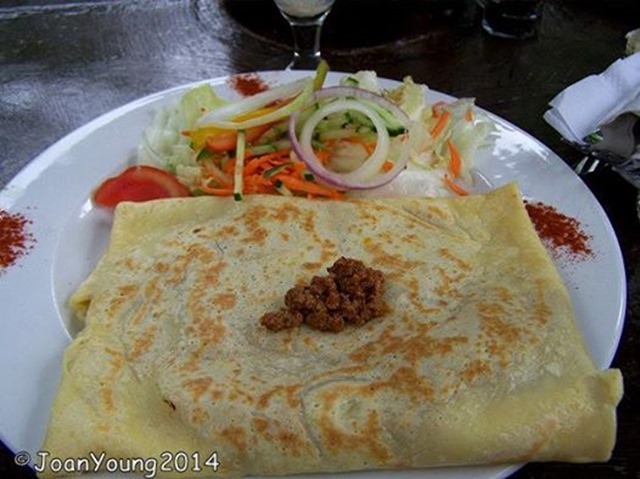 Joan ordered a fresh pineapple shake and savory ground beef wrapped in a crepe.  It was so big she took half of it back to camp for breakfast.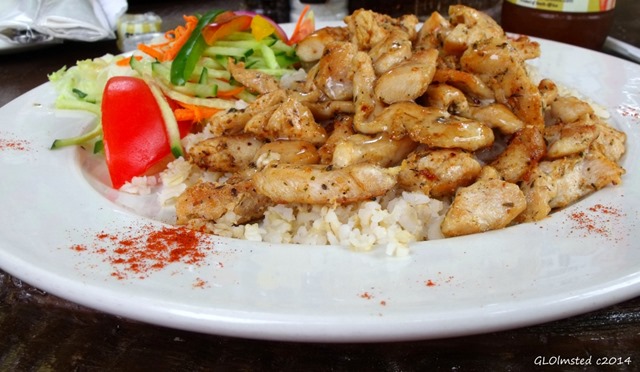 I went for the lemon and herb chicken over brown rice and Frankie's Ginger Beer.  Both served with salad and a delicious greenish dressing which probably had avocado in it.  Half of this also became breakfast.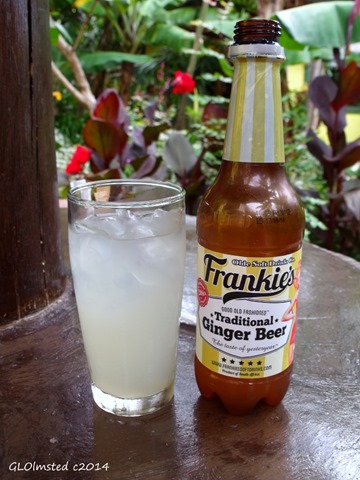 There is also a Mac Banana shop, car wash, go carts, paint ball, play ground, bakery, local wines, a butterfly house and more.  The store is full of delectable treats (no photos allowed) plus fresh fruits and vegies, candies and cookies, jams of every imaginable flavor and tourist trinkets.
I bought an airplane size bottle of Granadilla/Passion fruit Mampoer which Joan says I dare not drink at 50% alcohol.  Mampoer, unique to South Africa, is a white spirit distilled from fermented fruit, the equivalent of moonshine.  Think I'll share it with the Grand Canyon crew this summer.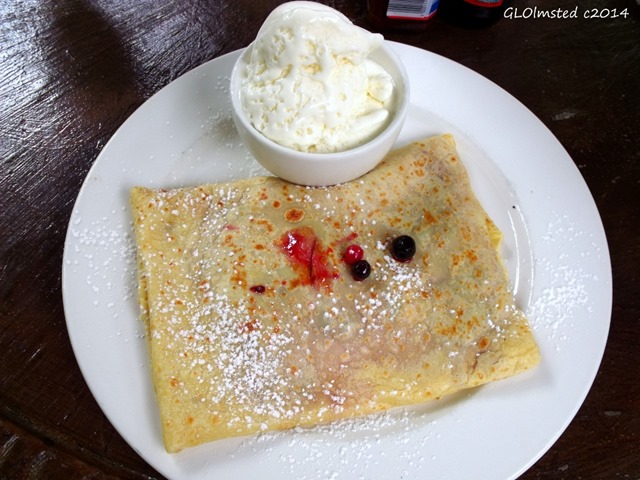 The food was so delicious we returned the next afternoon for a lunch of a mixed berries crepe with ice cream on the side which we shared.  Plus I had a fresh banana shake.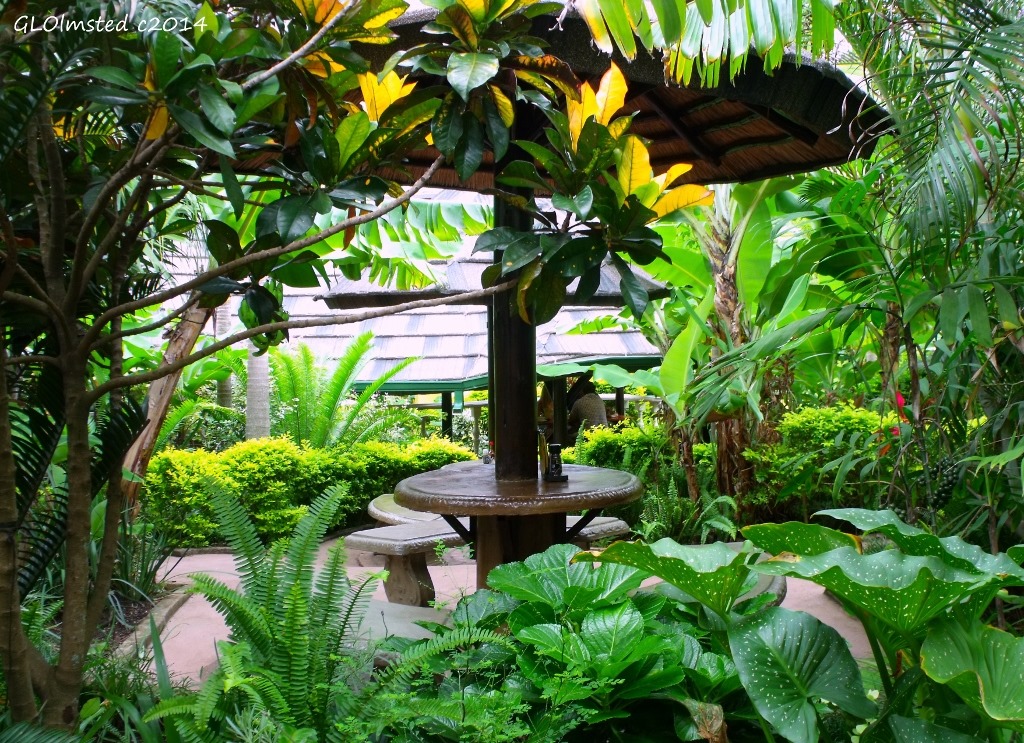 And the outdoor seating surrounded by lush vegetation made it feel like our own private garden.  Too bad we weren't in the area longer to try out a few more of the menu offerings plus visit the buttery house.  And maybe even get the car washed.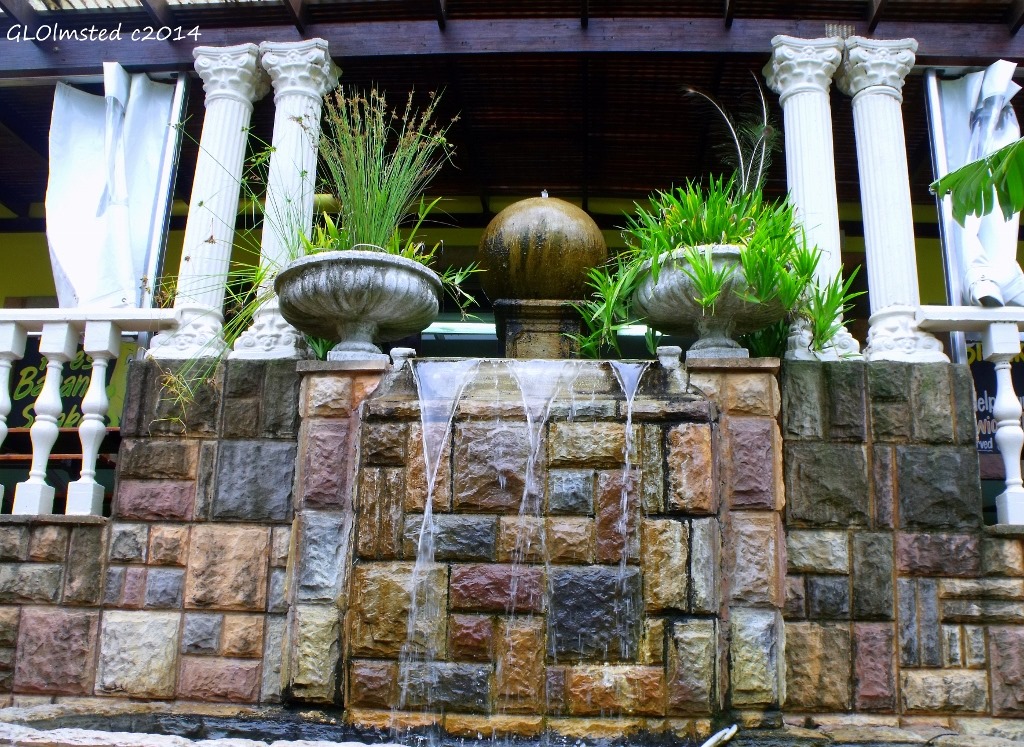 If you shop at Amazon please consider clicking below for the Amazon website. As an Amazon Associate I'll make a few cents on your purchase(s) at no extra cost to you. Put a few pennies in the winter travel kitty. Thanks for helping out.

Geogypsy is a participant in the Amazon Services LLC Associates Program, an affiliate advertising program designed to provide a means for sites to earn advertising fees by advertising and linking to amazon.com