Settling into Stellenbosch, a historic town you can shop and get drunk in.
Really, I liked Stellenbosch and didn't get drunk there.  I'm just finding it difficult to write about the last chapter of my visit to South Africa.  Makes it seem so final, even though I'm currently planning for the next visit.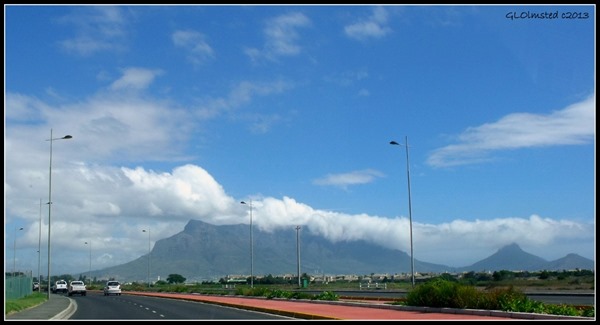 Table Mountain
When I left West Coast National Park I headed south towards Cape Town, but not to Cape Town.  (I'm really not a city gal so still haven't explored this place at all.)  Because I was headed to the Getaway Travel and Outdoor Show in Summerset West I opted to reserve a room for two nights at the Alvera Guest House in nearby Stellenbosch.  Then figured I might head to Cape Town before flying out to Johannesburg.  But instead I stayed three more nights.  Yes, I'd heard of famous wines, the historic Dutch architecture and a renowned botanical garden but that hadn't been on my list until I got there.  Unfortunately, with driving alone I didn't get a chance to sample the local wines.
The first night I stayed in a single room with use of the huge kitchen and common area.  One other bedroom was occupied by a man I never saw.  The next morning I left for the Getaway Show and while gone the owners moved all my goods to a new self-catered room.
Getaway Travel & Outdoor Show
If you're into camping and being outdoors, and it seems as most are in South Africa, then the Getaway Show is the place to go.  Hosted by Lourensford Winery the venue is surrounded by hillsides dotted with vineyards.  Exhibitors filled two huge tents and a monster-sized lawn with representatives from travel publications, resorts, lodges, tours, safaris, camp gear, and outdoor ware where I bought two pairs of cargo shorts.  Plus tents and trailers of every configuration and the vehicle to haul it all whether you prefer to stay in a caravan park or out in the bush.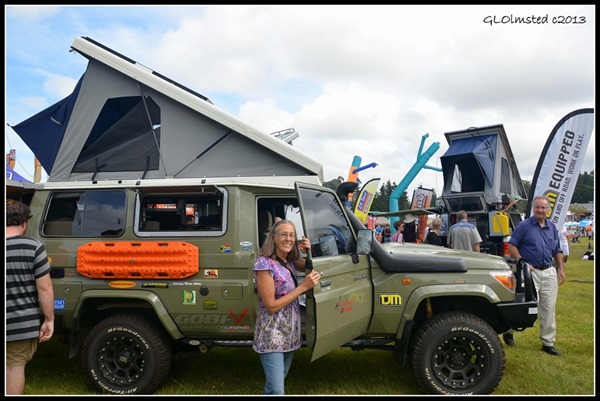 I found my dream machine if anybody would like to donate about 100K.  Plus I met numerous people involved in outdoor travel of many sorts and came away with a list of even more places to visit in South Africa and beyond.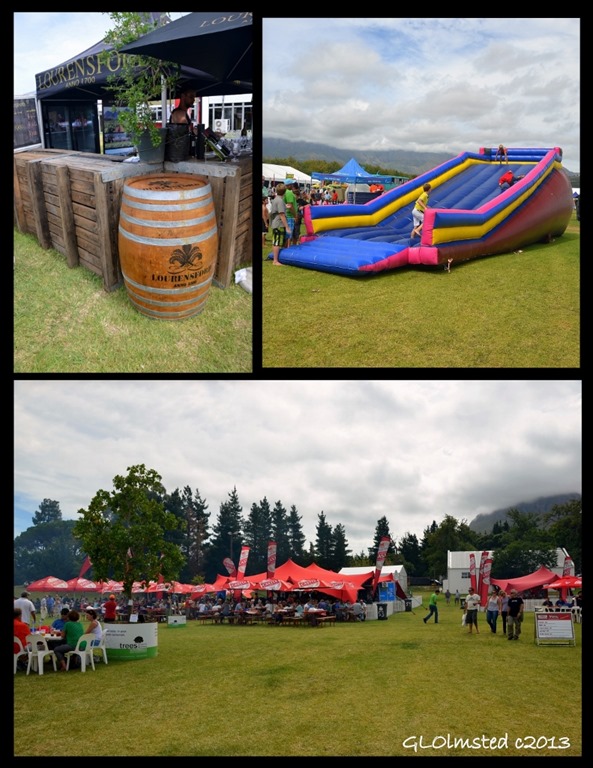 There were also plenty of kids' activities including a water slide and climbing wall.  Plus several food options, music, wine tasting and a beer garden.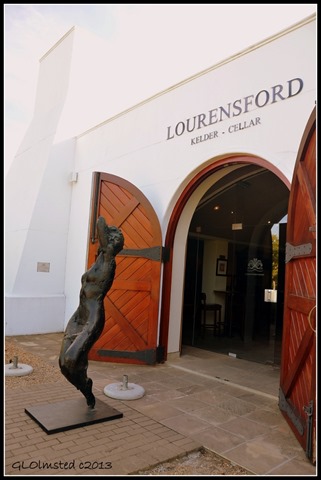 I returned to the show early Sunday for a photo workshop offered by Getaway and taught by one of their photo journalists Dylan Kotze.  Not only did I learn a few new things and finally set in mind even more, but I met some local photographers that I continue to be friends with and hope to see again when I return.  During lunch and after the workshop I wandered back around the show again making some final connections and networking for the future.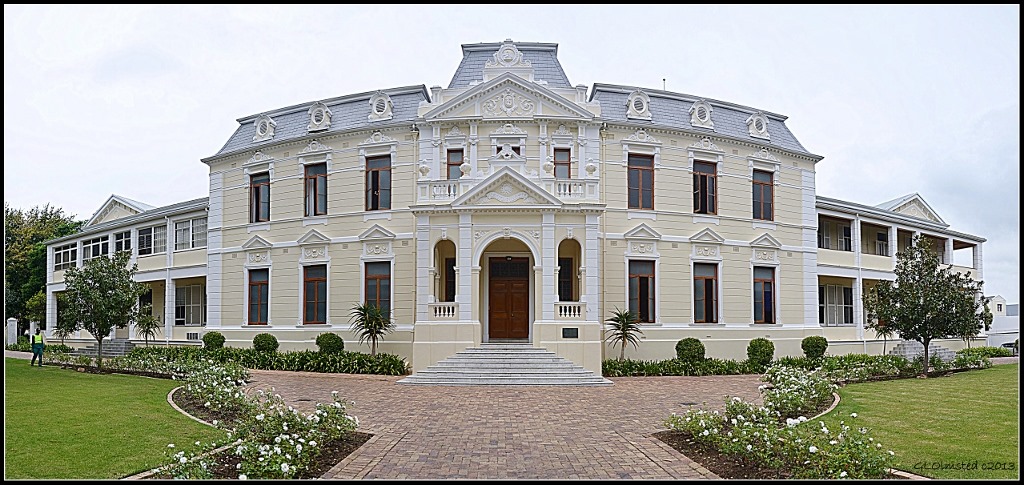 Theological Seminary
Historic Stellenbosch
Having a comfortable place to hang, that's just what I did instead of packing one more time and moving to Cape Town.  I will get around to exploring there someday.  Tried to get a reservation for the Robbins Island tour but it was booked.  So I explored historic Stellenbosch.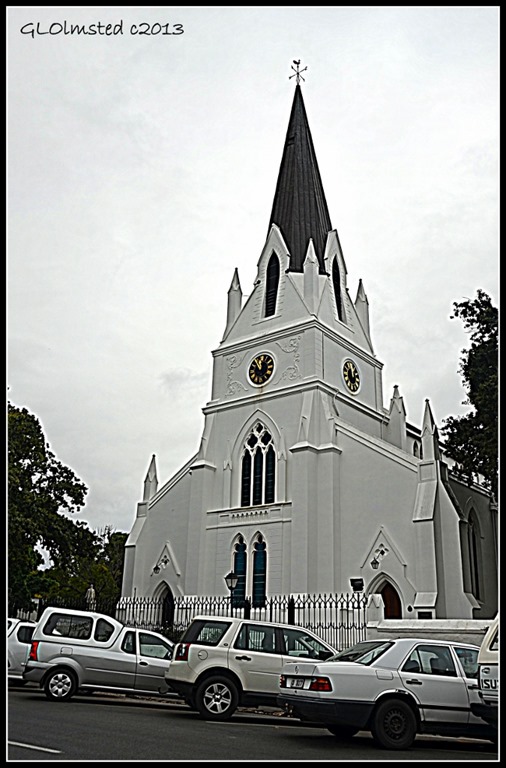 Moederkerk (Mother Church)
Known as 'the town of oaks' that were planted by founder Simon van der Stel in the 17th century this historic Dutch agricultural community welcomed French refugees who planted grapes in the fertile valleys around Stellenbosch.  Due to various fires most of the current buildings date from the 19th century.  A map is available for a walking tour of the historic district.
The architecture is intriguing and this town is made for shopping and eating.  I succumbed to both.  Being the end of my journey I knew if I could splurge a little.  This talented wood carver did his best to sell me something, two egg-sized carvings was all I could carry.  And even then between all the previous purchases and some Stellenbosch treats I ended up buying an extra bag to be checked for my return flight.  I'll look into shipping for the future.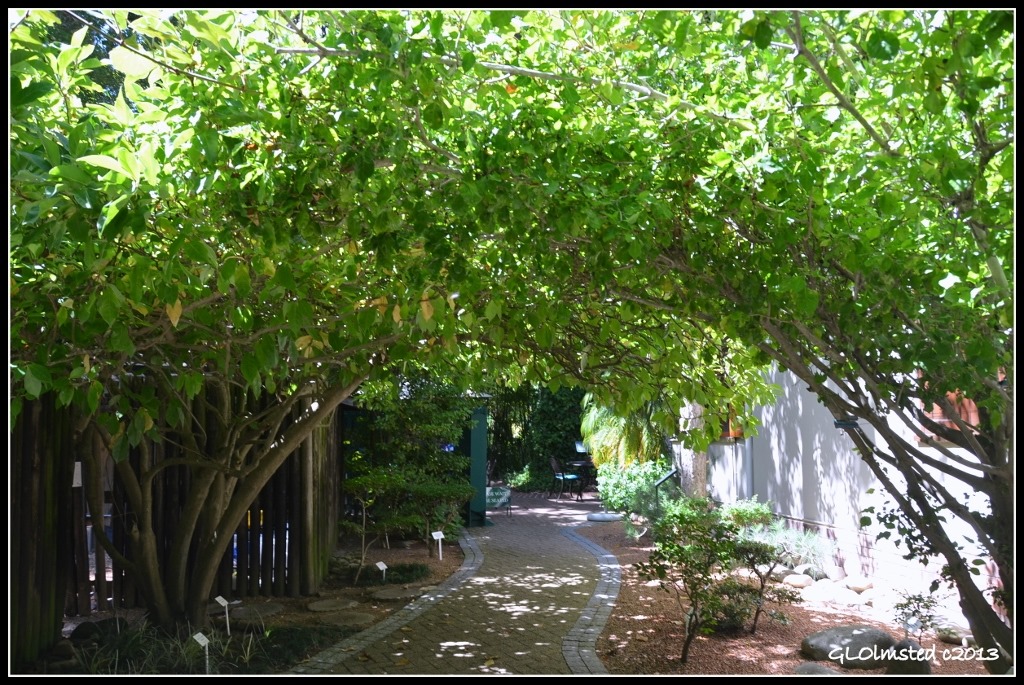 Stellenbosch Botanical Gardens
My last full day in country I returned to town for a wee bit more shopping but really to walk in the Stellenbosch University Botanical Garden which is free.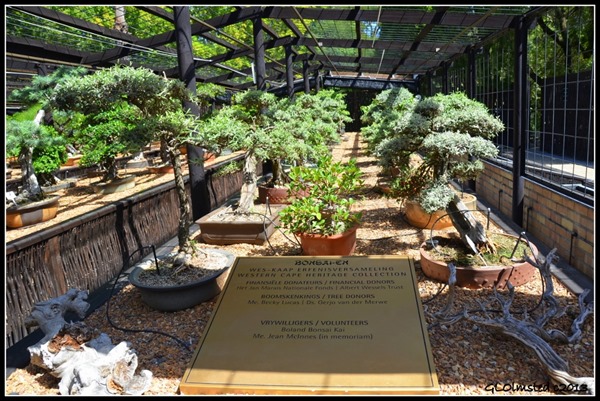 Though not large, it is the oldest of its kind in South Africa dating back to 1922 and houses an enormous diversity of plants, both indigenous and introduced species.  Stellenbosch has a Mediterranean like climate with dry warm summers and cool rainy winters ideal for this diverse collection of nearly 300 bonsai trees, succulents, ferns, orchids and more.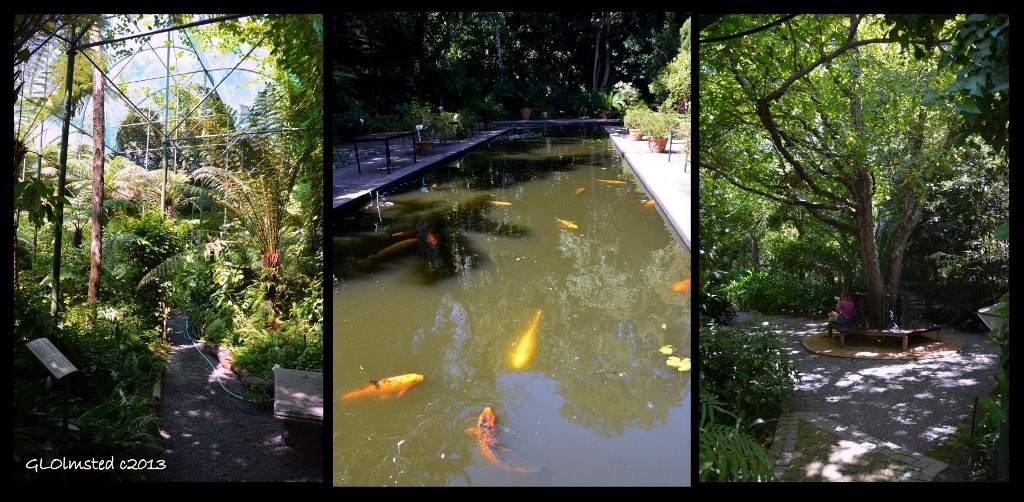 I was entranced by the bonsai, some more than 60 years old yet no more than two feet tall.  Especially when compared to ferns towering over my head.  So tranquil, not crowded, and easy to find a little sanctuary.  I enjoyed a delicious lunch in the shade of a giant gum tree at the Katjiepiering Restaurant and chatted with a young woman who is a student at the local university.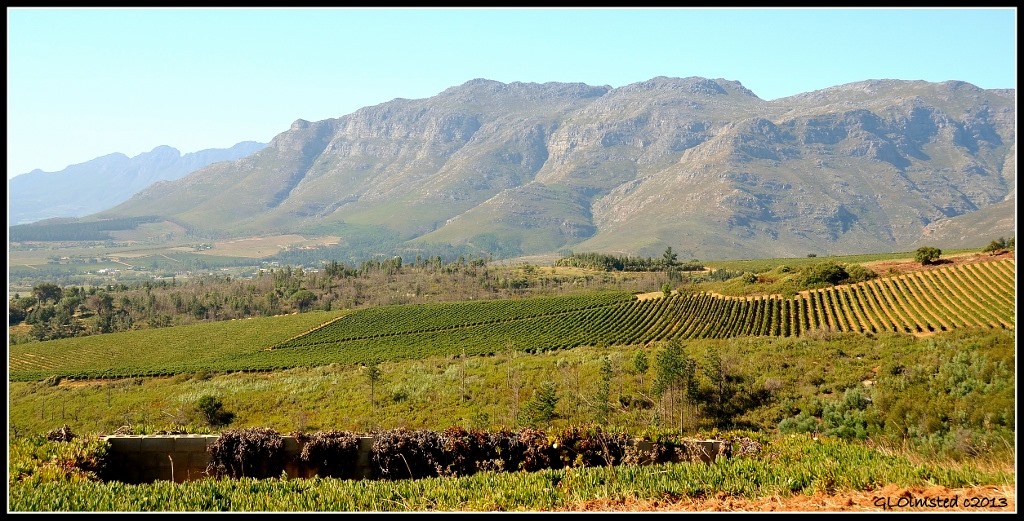 Wineries
I drove up a hillside into the vineyards just to enjoy the views and wasn't disappointed.  I know nothing about wine except tipping the glass.  Oh, and I guess you're suppose to sniff, sip and hold before swallowing.  I'd be willing to learn if I didn't have to drive afterwards.  Stellenbosch is home to 140 wine farms so there's ample possibilities.
Alvera Guest House
Hosts Vera and Jurgen Bolz operate a homey like environment in a residential neighborhood conveniently located to the historic district, main roads and services.  After five nights I felt like family.  Good thing as I sure made a mess of my room getting ready to leave.
And it was hard to leave.  I could have moved in on a more permanent basis here and every other place I stayed and visited while touring for two months in South Africa.  And so I am called back, to a country currently in mourning over the passing of Nelson Mandela yet standing strong after only 20 years since the change to freedom and Democracy.
A few more photos taken while exploring Stellenbosch.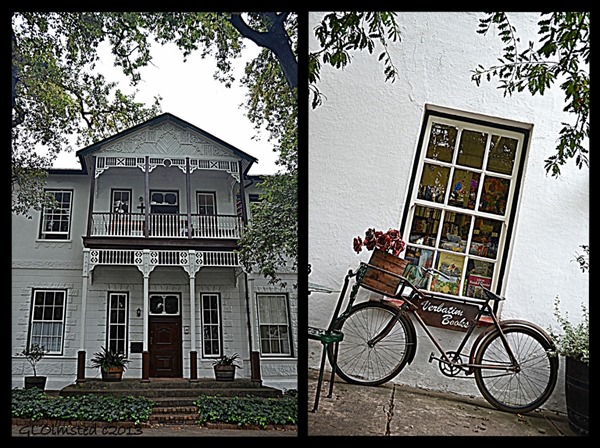 Dutch architecture and the sweetest little bookstore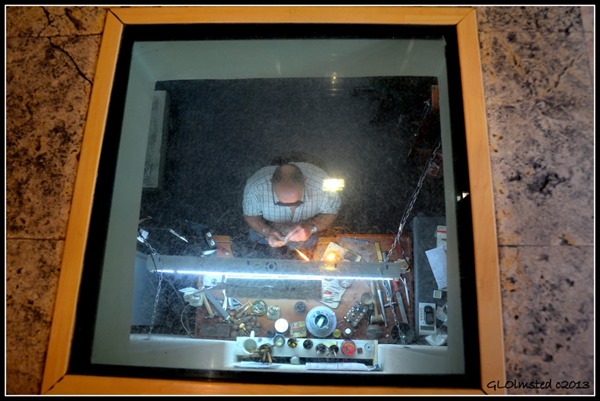 Diamond cutter at work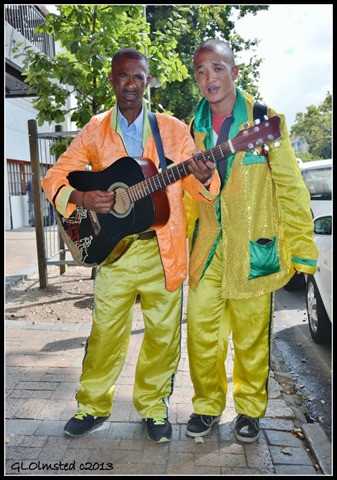 Serenade at lunch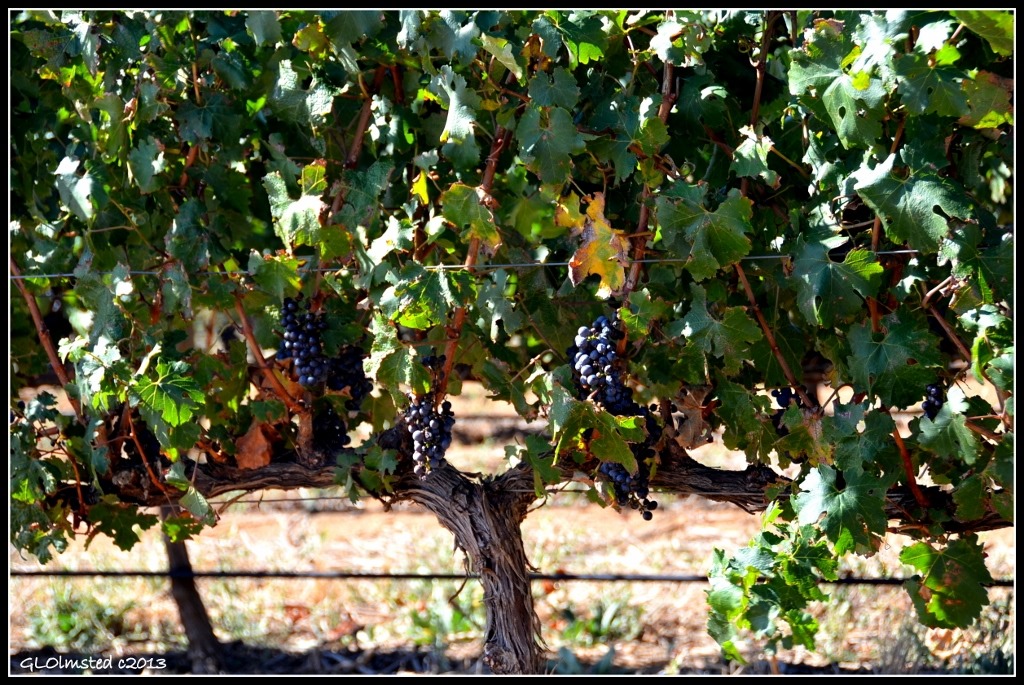 I always figure I get to enjoy a trip four times: when I plan it, while I actually travel, labeling the photos, and sharing the stories. Of course all that brings the memories back again in the future.
If you shop at Amazon please consider clicking below for the Amazon website. As an Amazon Associate I'll make a few cents on your purchase(s) at no extra cost to you. Put a few pennies in the winter travel kitty. Thanks for helping out.

Geogypsy is a participant in the Amazon Services LLC Associates Program, an affiliate advertising program designed to provide a means for sites to earn advertising fees by advertising and linking to amazon.com