This week's Foto Friday Fun includes 7 images chosen by readers picking a number out of my photo archives.
Arija chose #400, "the mid-way number of those you offered."  I know that Arija loves to watch birds but doesn't see snow very often.  So here's a combination of a snowy bird dance in my Yarnell yard December 15, 2012.  I'm hoping Not to see this again this year.  The snow part that is.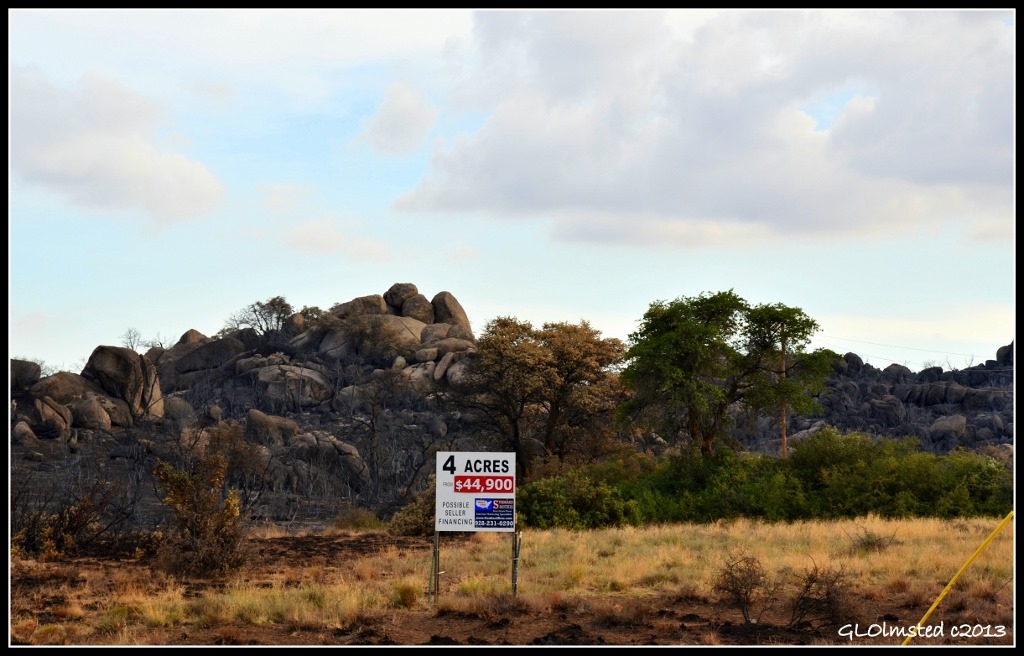 Bibi chose #555, "for no reason."  No reason to turn down this barely singed property deal in the boulders of Glen Ilah Yarnell.  Well, except for having no money.  Plus there's no utilities. But if you like rocks…
Yogi chose #300, "Because that is the dividing line between good and great hitter's batting averages in baseball."  Don't know about baseball, but when rafting the Colorado River floating under the Navajo Bridge has to be some kind of dividing line.  I haven't done the upper river, yet, but a fellow Ranger was on one of these boats while I was on the bridge.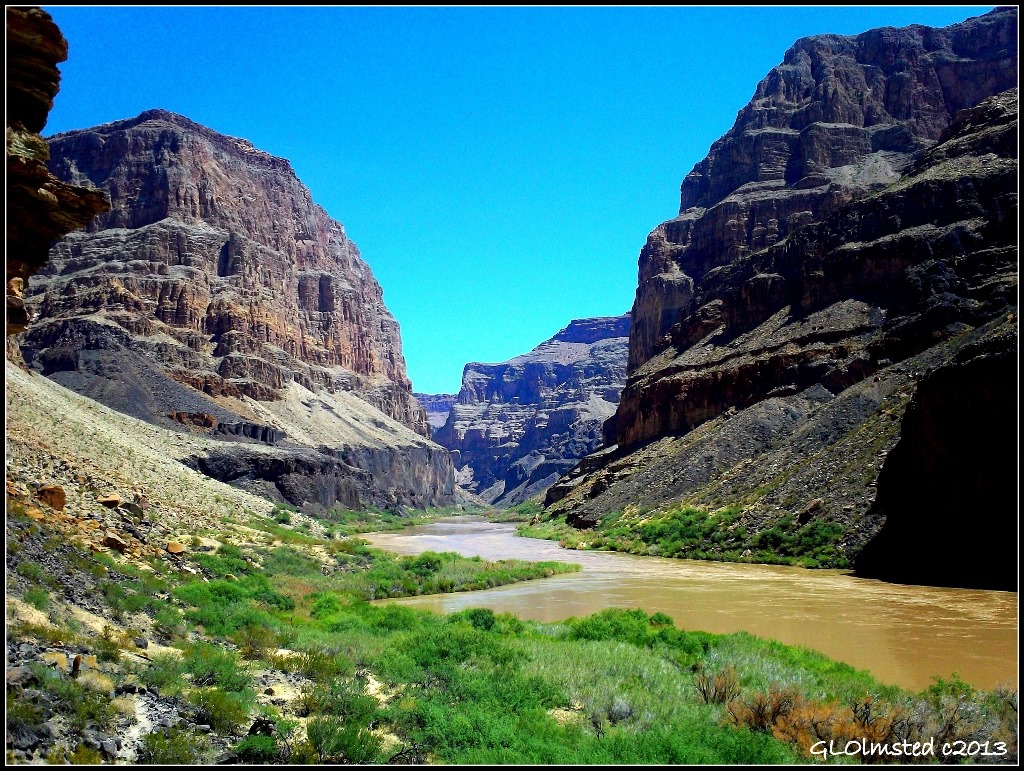 Jo chose #799.  Now this shot is from my rafting adventure on the Colorado River.  Even though I've crossed the river by foot several times I usually am looking down from the North Rim.  I think being engulfed by the canyon walls while on the river is an experience everyone should do.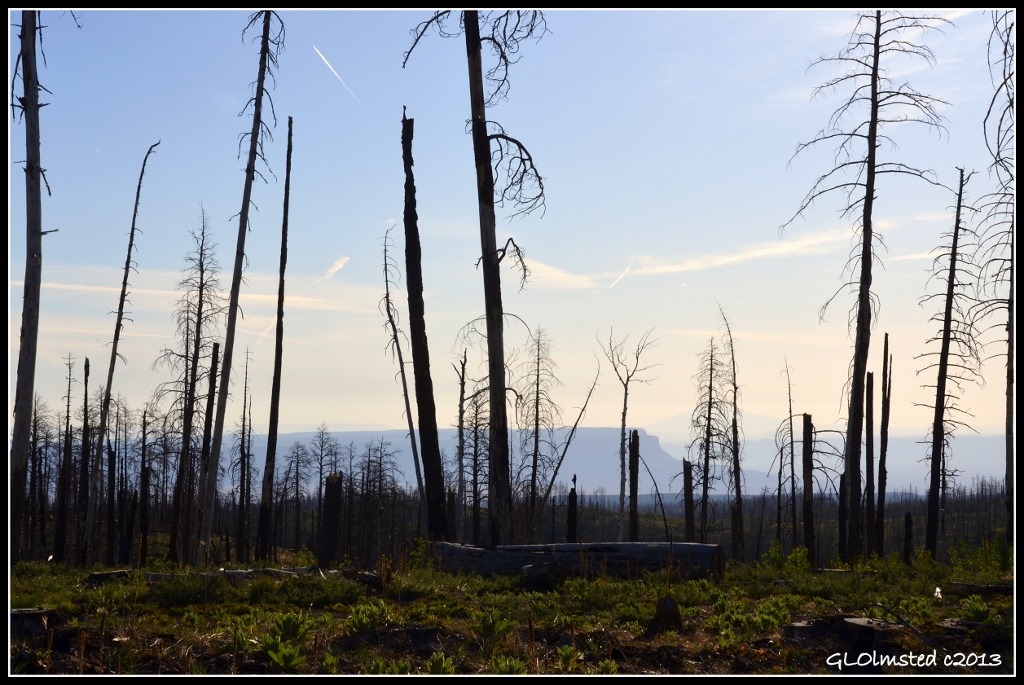 Sherry chose #127 and she's a tree hugger, but maybe not with these charred snags from the 2006 Warm Fire along the road from Jacob Lake to the North Rim Grand Canyon National Park.  The new saplings are too small to obscure the view of the Vermilion Cliffs to the northeast of the Kaibab Plateau.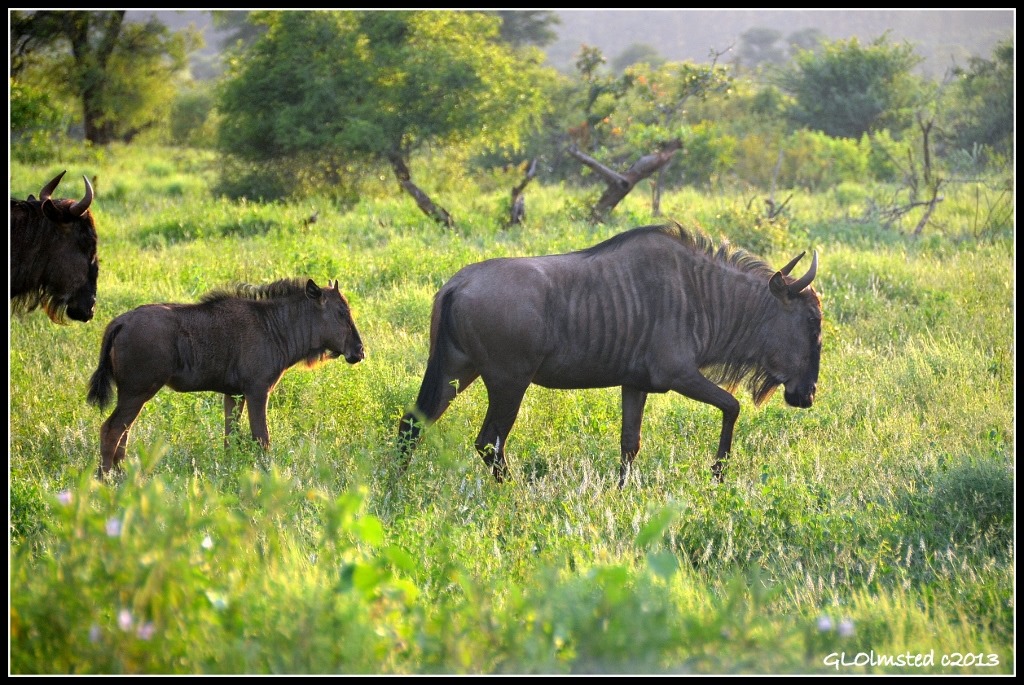 Diane chose #111, "for no particular reason."  So, for no particular reason she gets to see a family of Blue Wildebeest in the morning light at Kruger National Park in South Africa.
MaryBeth chose #900, a Rainbow skink also seen at Kruger National Park where fascinating animals come in all sizes.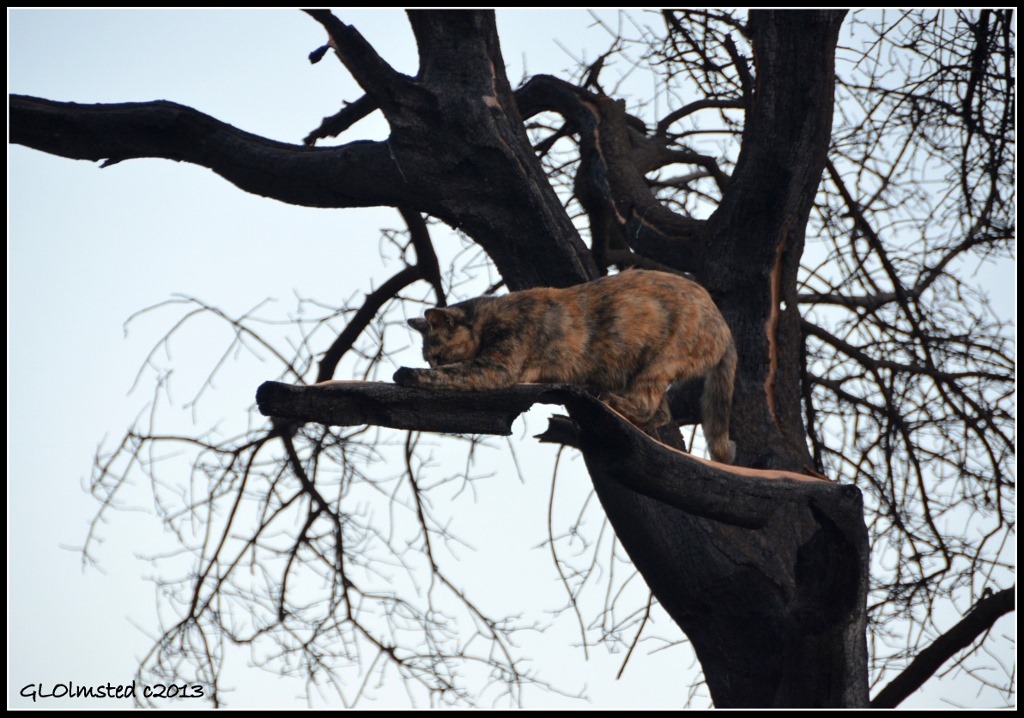 My choice this week shows one of my neighbor's many cats enjoying a scratch on a burnt tree.
Thank you for joining in Foto Friday Fun. I really enjoy digging through my archives and pulling the stories from my memories. To join in the fun for next week leave a number between 1 and 500 in a comment and maybe see your chosen image next week.
Do you have a favorite from this week?
Look for other photos posted on Geogypsy Facebook page not usually seen here.
If you shop at Amazon please consider clicking below for the Amazon website. As an Amazon Associate I'll make a few cents on your purchase(s) at no extra cost to you. Put a few pennies in the winter travel kitty. Thanks for helping out.

Geogypsy is a participant in the Amazon Services LLC Associates Program, an affiliate advertising program designed to provide a means for sites to earn advertising fees by advertising and linking to amazon.com