The Yarnell Hill Fire caused loss of lives, homes and possessions, all precious in their own way.  The question is, should this have happened?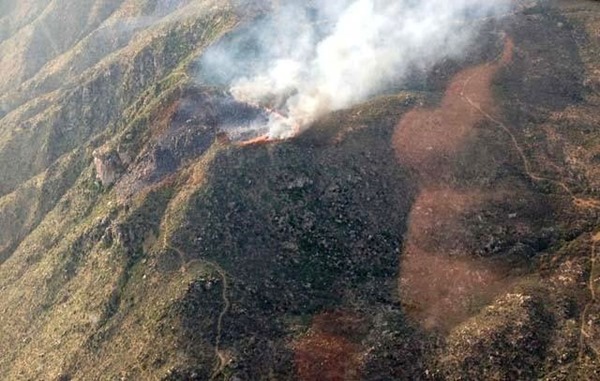 Photo from AZ State Air Attack plane on 06/29/13
In the beginning
A Friday night lightning strike on the Weaver Mountains with no rain started a fire in the crispy dry chaparral.  Smoke could be seen from the backyards of residences.  A friend called the local volunteer fire department who was aware of the incident and said Bureau of Land Management (BLM) was on the scene.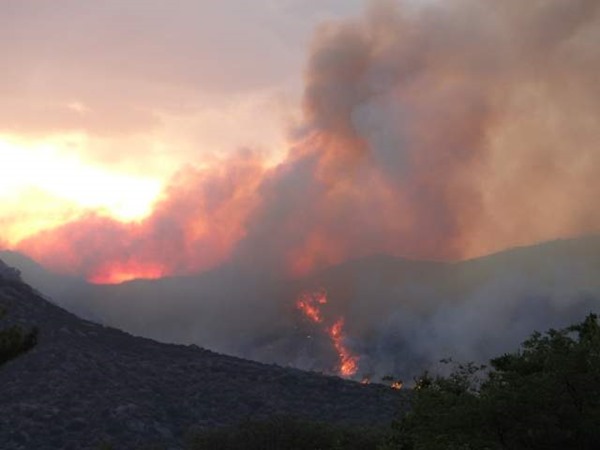 An 8-10 acre fire increased to 200 acres by Saturday and extreme temperatures and wind moved the fire closer to the small community of Glen Illah at the southwest end of Yarnell, Arizona.  BLM were there watching.  Why wasn't this put out right away?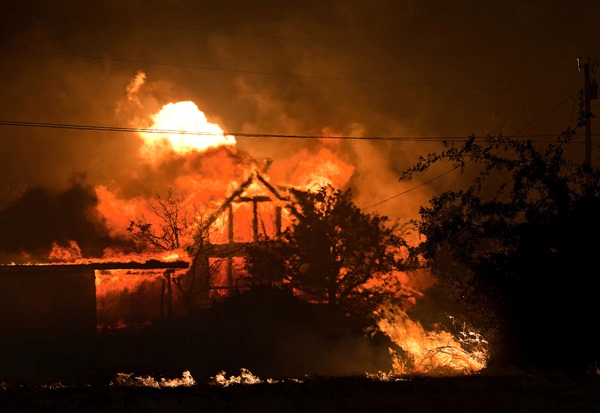 AP photo Tom Story
And so it burns
Sunday at 7am aircraft were finally ordered and the Arizona State Forestry wildland-firefighting team assumed command at 10am.  By then the blaze had increased to 800 acres heading north towards Peeples Valley and in the afternoon Prescott Granite Mountain Hotshot crew were sent in to Yarnell to establish a fire line to save homes from the growing inferno.  Prescott firefighters were joined by the US Forest Service to attack the fire from ground and air.  By late afternoon the people in town were told to evacuate.
What would you grab from your home with a five minute warning?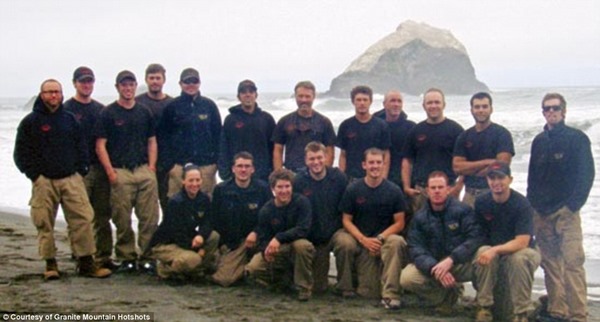 Tragedy strikes
National Weather Service meteorologists in Flagstaff were tracking a monsoon thunderstorm with 40mph winds to the north of the Yarnell Hill Fire.  Calls were made to incident command.  Swirling winds pushed the fire back south towards town and an unprecedented wave of flame engulfed 19 of the 20-man hotshot crew.  The largest loss of life during a fire in Arizona's long history of fires.  And now 2000 acres burned.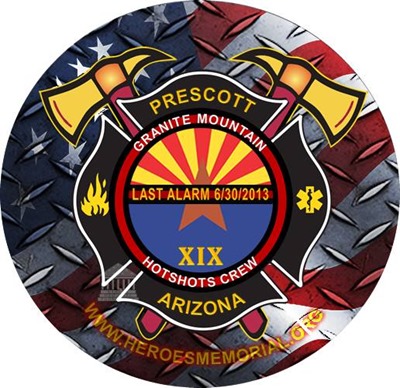 We mourn for these firefighters.  An investigation is underway.
Taking this seriously
Late Monday the Type 2 fire was re-designated as Type 1, the most complex kind of wildfire, and the federal government took over from the state fighting this now 8400 acre wildfire with 0% containment.
By Tuesday approximately 500 firefighters were on the scene along with air support and with little growth in the fire achieved 8% containment.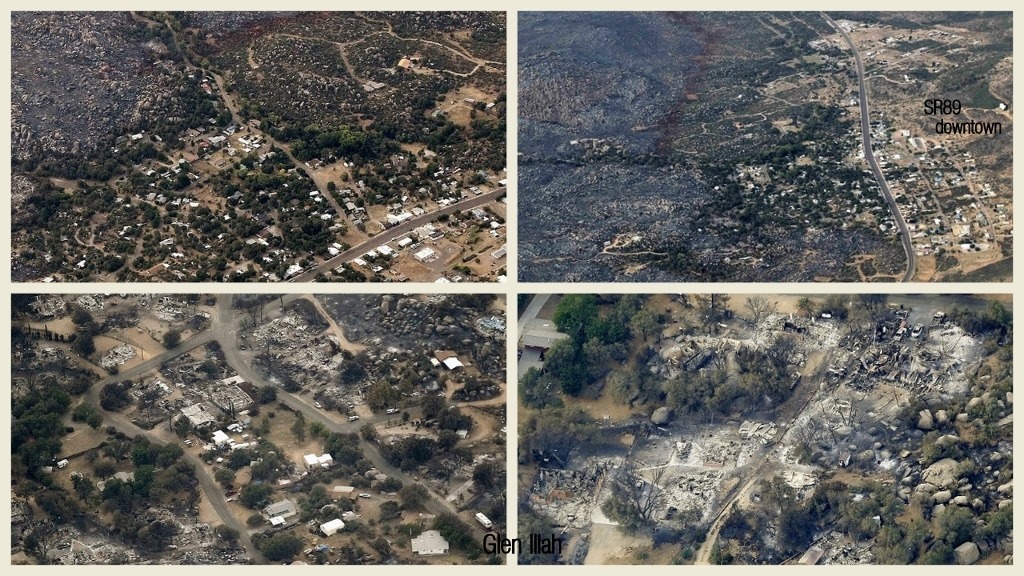 Wednesday, the winds calmed a bit and the temperatures decreased allowing for a 45% containment attained by 600 firefighters.  Media fly-over images began to show downtown Yarnell still standing and a patchwork of destruction mostly in the neighborhood of Glen Illah.  Yet even though I live there six months of the year I had difficulty discerning where and what I looked at.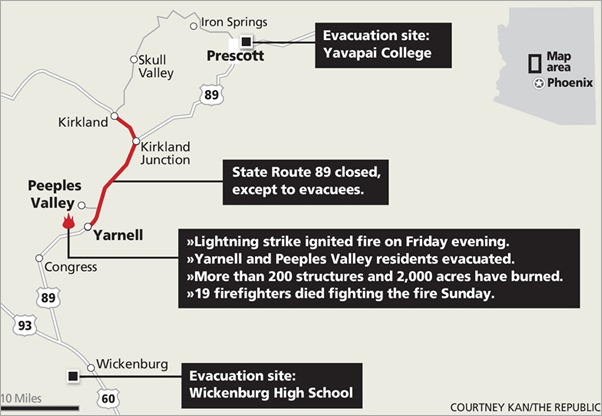 Some allowed to return
Thursday afternoon evacuees from Peeples Valley just 3 miles north of Yarnell were allowed back to their homes.  Later in the evening the containment had reached 80%.
By now anxious homeowners had been made aware if they still had a home to return to.  Yet Yarnell residents remained under evacuation orders while utilities and infrastructures were checked for safety.  Because of the bouldered terrain hot spots could linger.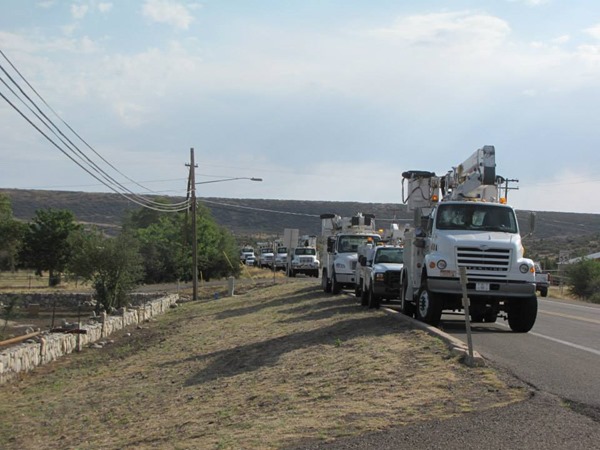 Photo taken by a Fire Information Officer on 7/3/13
Making repairs
On Friday APS began installing power poles and restringing lines.  As part of the recovery, portable toilets will be installed in Yarnell, along with trash dumpsters to help with the cleanup. Rakes, shovels and other tools will also be available to residents.  By evening the Yarnell Hill Fire was reported at 90% containment.
The aftermath
Friends who made it safely to Wickenburg 30 miles to the south recently discovered their homes were lost while others were luckier.  There is talk of rebuilding but right now is a time to find more than a hotel room to live in, some place to rent not too far away.
The evacuation is being lifted at 9am Monday.
I both want to see, and not see, what is left of our neighborhood.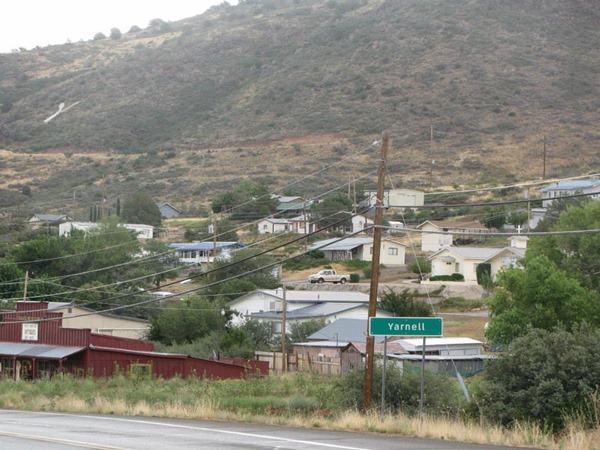 Yarnell is a small and friendly community of about 600 people where the 80 year-olds take care of the 90 year-olds, the 70 year-olds take care of the 80 year-olds and the 60 year-olds take care of the 70 year-olds .  It's primarily a retirement community with so few children the school was closed.  The business community is made up of one grocery store, two restaurants and several antique and second hand stores.  A town that not many had heard of may be remembered as where 19 brave firefighters perished.
Fire is a natural part of the environment but these mountains hadn't burned in 40 years.  Massive buildup of dead fuel combined with long term drought, excessively high temperatures and powerful winds allow monsoon lightning to set the land a blaze.
Yet from the ashes rises the Phoenix of new birth.  By no later than spring green shoots and buds will show their colorful blooms.
I followed this story online from my summer base at Grand Canyon's North Rim because Yarnell is my home town and many of my dearest friends live there.  If I got some of the facts wrong I apologize.  This has been a most difficult time.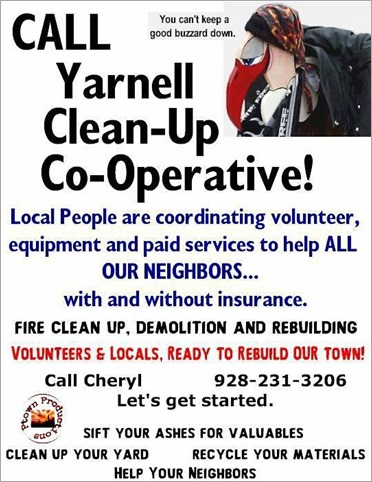 People have pulled together and made donations for the firefighter families and residents.
Sites with fire information:
https://www.facebook.com/YarnellHillFire     Yarnell Hill Fire Official Information
https://www.facebook.com/GraniteMountainHotshotsMemorial     Official website for the Granite Mountain Hotshots Memorial Incident Management Team
http://www.100club.org/web/100Club    https://www.facebook.com/100Club     Providing support to public safety for over 40 years
http://yarnellfallenfirefighters.com/     The official team website
http://www.wffoundation.org/     Provide emotional and financial assistance to firefighters and their families
http://www.inciweb.org/incident/3461/     Incident Information System
https://safeandwell.communityos.org/cms/index.php     American Red Cross safe and well program
Media sites followed:
Sending out help:
http://arizona.newszap.com/eastvalley/123800-114/the-need-everything-group-collecting-donations-to-help-yarnell-fire-victims-rebuild
As of this posting 8400 acres burned at 90% containment with diminishing amounts of creeping and smoldering.
If you shop at Amazon please consider clicking below for the Amazon website. As an Amazon Associate I'll make a few cents on your purchase(s) at no extra cost to you. Put a few pennies in the winter travel kitty. Thanks for helping out.

Geogypsy is a participant in the Amazon Services LLC Associates Program, an affiliate advertising program designed to provide a means for sites to earn advertising fees by advertising and linking to amazon.com