Starting up this new idea of Foto Friday Fun at Geogypsytraveler because I have SO many photographs to share.  Last Sunday I asked readers to leave a number in their comment to help me choose which photo(s) to display.
With only nine numbers to choose from I decided to show them all and let you decide which is your favorite.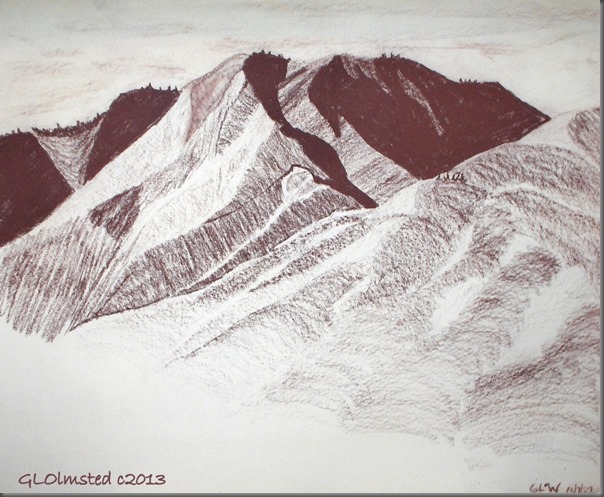 1. Barb from Live and Learn choose #68 as her age for another month.  Hope I don't get in trouble for giving that away.  Yet I know she's not as old as the foothills in this conté drawing I did back in 1987 when living and going to school in Wenatchee, Washington.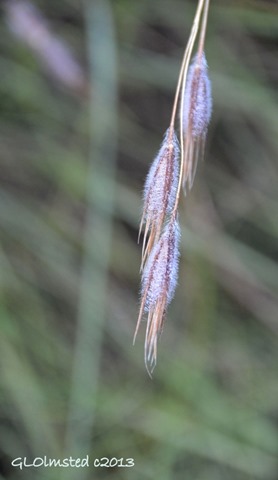 2. Kathy wrote "I love all your photos. How about 1947."  First of all, thank you.  I love to see and photograph both the big and small of nature.  These grass seed heads grew along Echo Ravine trail at Golden Gate Highlands National Park South Africa.  (It's not upside down.)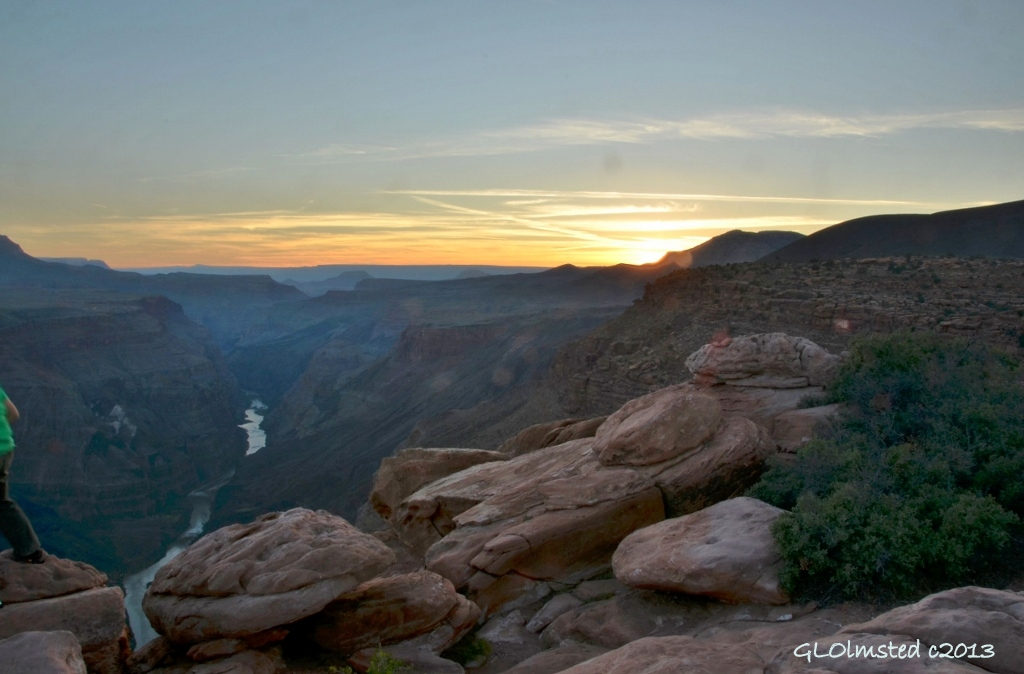 3. Jo of Memorable Meanders commented, "My choice number is 60 being the age I turned this year and although I thought I was happy reaching the big six-oh, I also find myself panicking at the significance of being 'old'! Am I crazy or what?"  You are wonderfully crazy my 60-is-the-new-40 friend.  Almost as crazy as me out on the rocks taking this photo at Toroweap, Grand Canyon National Park.  An iconic view that few see with their own eyes.
(Notice an age theme going on here?)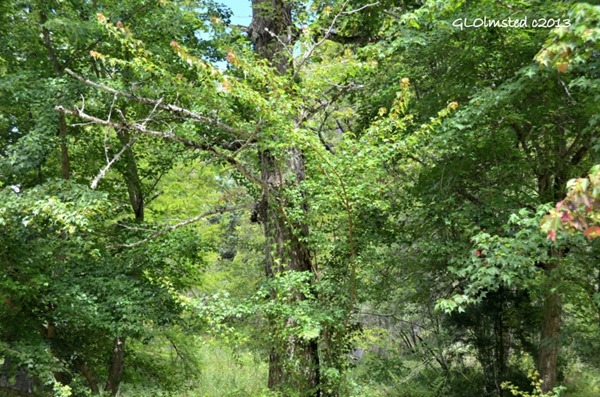 4. AJ at Ouch My Back Hurts chose 3913 for no particular reason.  That number provides a particularly busy forest view focusing on the center Gingko tree at Hogsback Arboretum South Africa.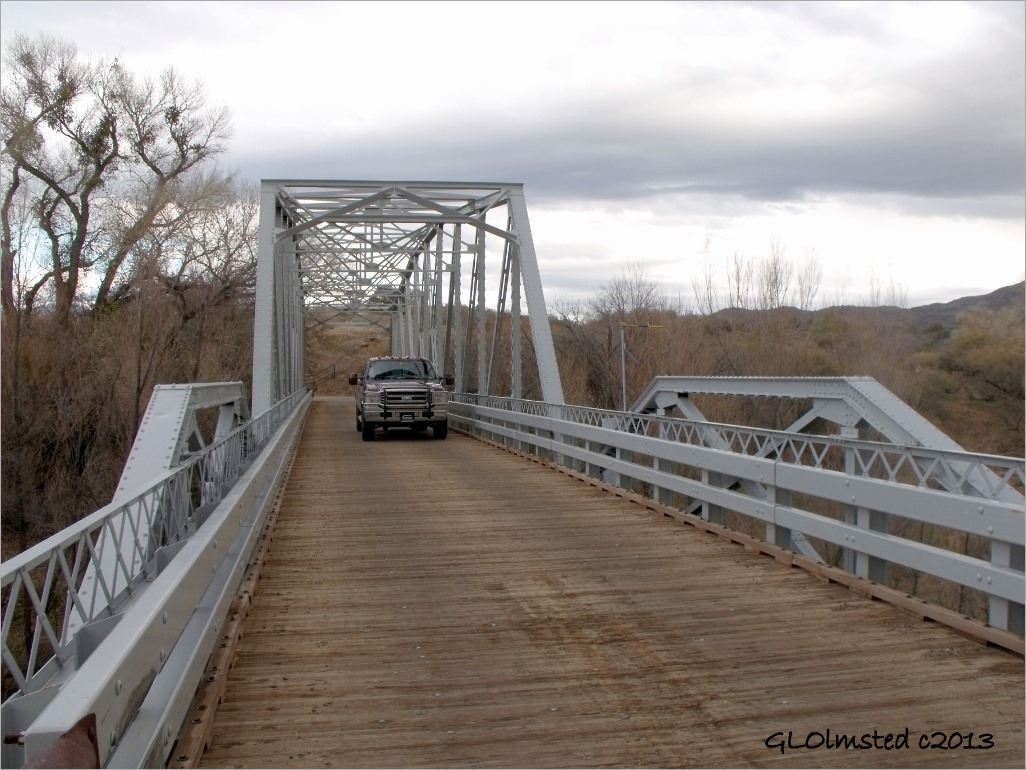 5. Diane from France and Life in Charente writes that her favourite number is 356.  One of my favorite old bridges crosses the Hassayampa River and matches her number, although the lemon truck parked on it was Not a favorite.  (Did I tell you I traded it in?  Photo at the bottom of the new ride.)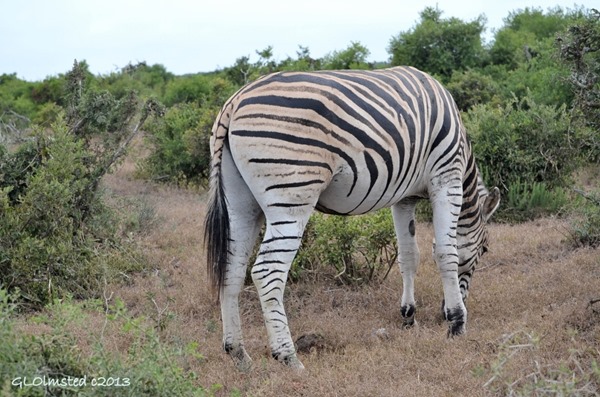 6. New reader Lu-Gerda, shares stories from travels in her home country of South Africa and chose photo 3297.  Taken from a place not far from her Mossel Bay home, this Burchell's Zebra dinned on the grasses of Addo Elephant National Park.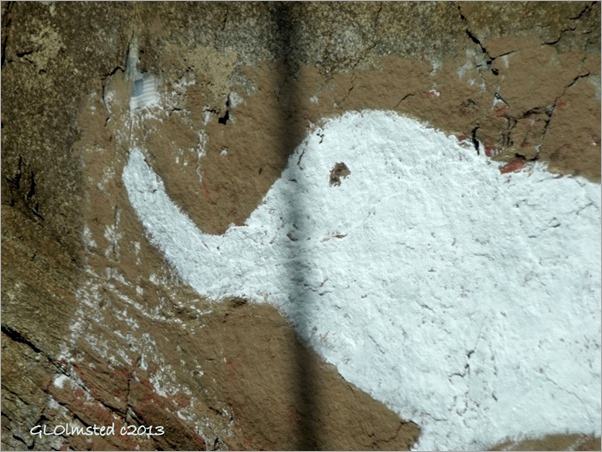 7. Bibi from Yankee in Belgrade wrote, "Love this little zebra.  How about #48?"  Glad you liked last week's Zebra and hope you like the one above as well.  However your number is a very different kind of animal found painted on a rock at a curve on the Yarnell Hill Road.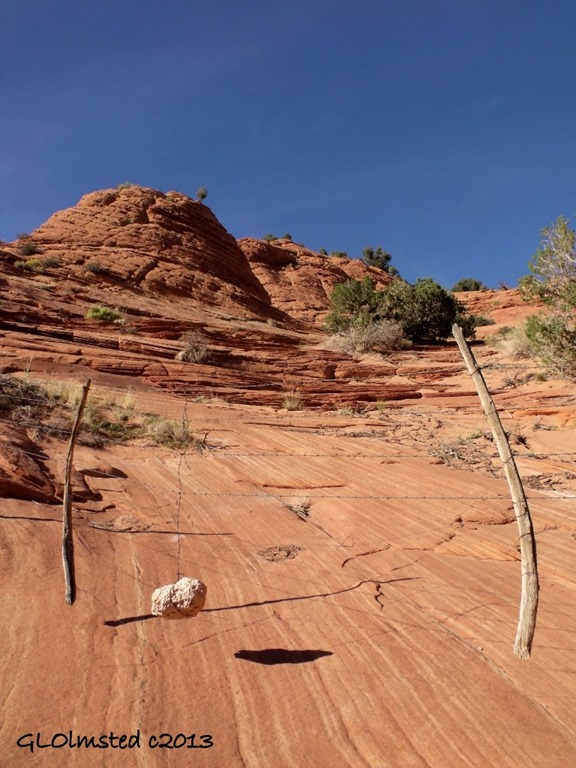 8. Back to the age thing, Melissa wrote, "My number is 946.  My birthday, 9/4/60, minus the zero!"  Looks like zero gravity works for this fence.  It's not easy to dig a fence-post hole in sandstone like found along Wire Pass trail to Buckskin Gulch.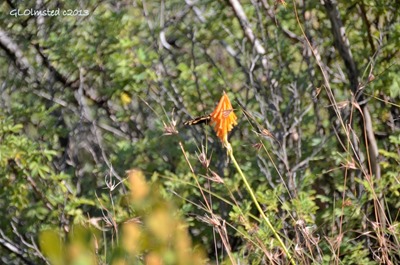 9. Chris at Gardening and the Spanish way asks for 1972, which happens to be the year I graduated from high school.  But instead of showing you a photo of me from then I'll share this Red Hot Poker hosting a butterfly taken in South Africa.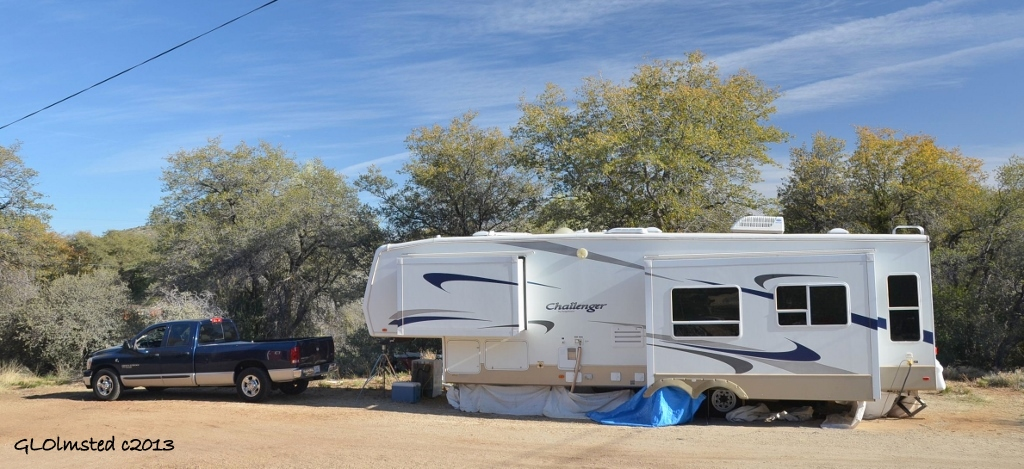 The new to me truck with my RV home
So how did they do?  Which number is your favorite?
Please pick a number between 1 and 4075 to be considered for next week's Foto Friday Fun.
Thanks for playing along.
If you shop at Amazon please consider clicking below for the Amazon website. As an Amazon Associate I'll make a few cents on your purchase(s) at no extra cost to you. Put a few pennies in the winter travel kitty. Thanks for helping out.

Geogypsy is a participant in the Amazon Services LLC Associates Program, an affiliate advertising program designed to provide a means for sites to earn advertising fees by advertising and linking to amazon.com