I continually think of items I'll need to travel in Africa.  I searched online for a cross-shoulder travel bag with water bottle holder and found three that might work.  Yet I'm kind of a touching type person when it comes to buying.  And these all ran from $50 up.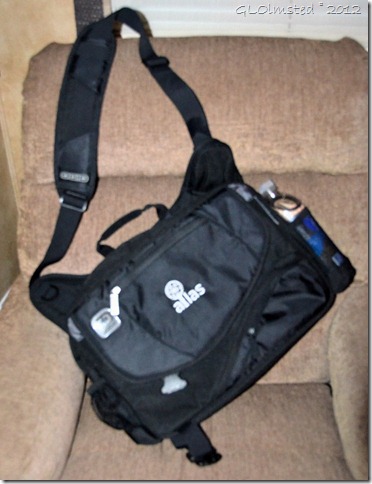 Enter a Thrift Store.  And dang if I didn't find a bag that may sometimes replace my purse for carrying all the electronic gadgets.  It's called "atlas."  Now isn't that appropriate.  The front flap, which can be latched shut, opens to reveal a pocket with an organizer panel full of little pockets for pens, phone and a zippered pocket for whatever.  Plus the flap has a zippered pocket.  Below the flap is an odd shaped zipper pocket.  The large zippered main compartment has a velcro-shutting laptop sleeve, and more little pockets for mouse, power cord and headphones. (I don't have headphones so maybe need to put that on my list.)  Plus two deep open-top pockets on the back.  There's a long adjustable shoulder strap with a sliding pad to keep the weight I'm sure to include my digging into my body.  And, outside pockets on each end for water bottles.  Score for $10 at the Yavapai Humane Society Thrift Store (YHS).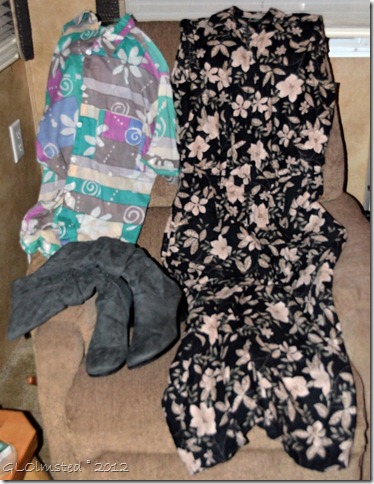 I usually wear solid colors to show off my jewelry but when traveling tone it down.  I found this pastel printed blouse and the sleeveless dress, with pockets, also at YHS.  Clothing was marked 50% off so both of these only set me back $6.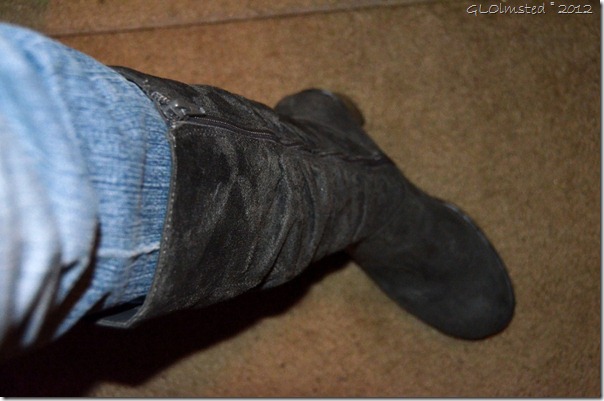 I love to get a deal.  And it just so happens that NOAH's Ark Thrift Store also had a half price sale so the boots only cost $11.  I love boots.  Although these do have a little higher heel than I'm used to wearing.  Hopefully I don't fall off them.  It's really only about an inch and a half, so at least I won't have far to fall.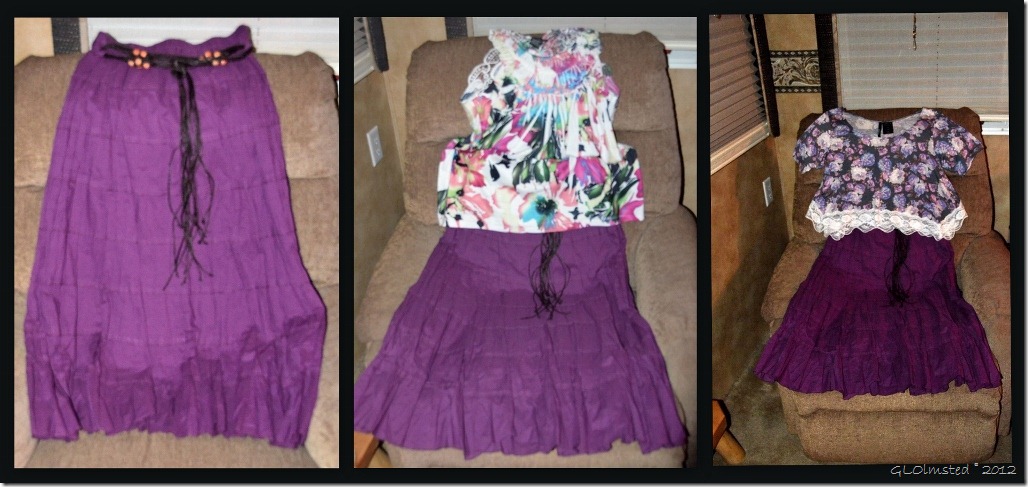 I also got some great deals on sale at the mall, a place I usually avoid like the plague.  One skirt and two tops for $50 might have tipped the balance on the thrifty purchases.  But hey, I'm worth it.  And I have plenty more purple to put with this.
I really don't want to get too much stuff to travel with but there's still a few things on my list.
What do you have on your travel packing list?
If you shop at Amazon please consider clicking below for the Amazon website. As an Amazon Associate I'll make a few cents on your purchase(s) at no extra cost to you. Put a few pennies in the winter travel kitty. Thanks for helping out.

Geogypsy is a participant in the Amazon Services LLC Associates Program, an affiliate advertising program designed to provide a means for sites to earn advertising fees by advertising and linking to amazon.com