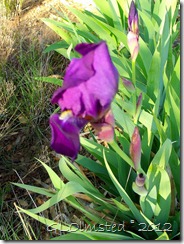 Iris blooming in Yarnell yard
I was too weirded out to take photos.  My truck seemed to be moving at a snails pace up the pass on I40 east to Williams.  What's up with that?  I have a Big Super turbo diesel that pulled the 5er like a dream last fall.  I kept the peddle to the floor and watched the gauges.  Come on sweetie, get us to Flagstaff.  But not quite.  Only two miles from town the gage pegged HOT.  I pulled over put her in Park and white smoke blew out the tailpipe.  So I shut her off.  Things were burgling under the hood but I saw no leaks.  Hell, you can barely see anything under this hood because it's jammed so full.  Can't even take the radiator cap off.
Called Good Sam Road Service and after several 20 minuets on hold was told a tow truck was on the way.  The first question I got, what's your GPS location?  Well, I'm still old fashioned about that and use a map, plus have turned it off on my phone.  How hard can it be to find a big truck towing a big RV parked along the shoulder two miles west of Flagstaff on I40?  Of course the local tow truck driver had no problem finding me.
He dropped the drive-shaft, lifted the front tires and with 5th-wheel in tow it looked like a train.  (Really sorry I didn't get a photo.)  Dropped the RV off at Flagstaff KOA where I had a reservation then towed the truck to Ford.  Will find out tomorrow what's the problem.
Left Yarnell Monday at 10am for a three-hour drive and finally settled in for a shower at 4pm.  Then out to dinner with friends FabGrandma and Grandpa.
Update from Ford shop:  The EGR and engine oil cooler melted together.  They've started the repairs and hopefully the Warranty I paid dearly for will cover some of the costs.  Should be done sometime tomorrow.
If you shop at Amazon please consider clicking below for the Amazon website. As an Amazon Associate I'll make a few cents on your purchase(s) at no extra cost to you. Put a few pennies in the winter travel kitty. Thanks for helping out.

Geogypsy is a participant in the Amazon Services LLC Associates Program, an affiliate advertising program designed to provide a means for sites to earn advertising fees by advertising and linking to amazon.com